Spicy Chipotle Beef Burger
Well after the Chimichurri peppers recipe, spicy sweetcorn relish recipe and the spicy onion rings recipe all you need to complete my ultimate chilli burger is burger. It's smokier and richer than my standard chilli burger recipe, it's also not as spicy but that depends on the sauce you use.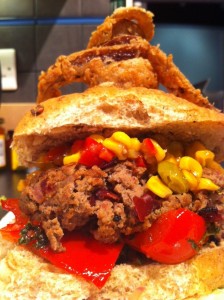 It uses a big dollop of Chipotle sauce, if you can't get it or want to tone down the heat, a really nice smokey bbq sauce.
The kidney beans give a lovely texture, especially if you leave a few whole.
It serves two and can be made well in advance as you can make them and stick them in the fridge or the freezer until needed.
You can also serve it with chips if you like but due to the crispy fried onions I went for a nice big side salad instead.
When it comes to serving, you just need to fry the onion rings and cook or reheat your Chimichurri peppers, then assemble as a monster burger.
Ingredients
250g good quality minced beef
80g of red kidney beans, drained and washed and mashed with a fork
40ml of chipotle or BBQ sauce
1 tbsp Dijon mustard
1 small red onion, finely diced
1 tsp dried thyme
1 tsp dried oregano
1 tsp chilli flakes
salt
pepper
2 Buns
2 wooden skewers
1 batch of chimichurri peppers
1 batch of spicy sweetcorn relish
1 batch of spicy onion rings
olive oil
Optional mix of a little Dijon mustard and chipotle sauce for basting.
Method
Put the mince, onions, herbs, spices, kidney beans, mustard and sauce in a bowl, season with salt and pepper then mix well with your hands, give them a good squish, if you don't want to do it by hand you can blend them in a food processor, if it doesn't bind feel free to add a few breadcrumbs or crushed up crackers.
Shape into burgers then wrap in cling film and chill for 30mins to an hour.
Heat a griddle pan up so it's smoking hot, rub each burger with a little bit of olive oil.
Cook the burgers until they are done to your liking, turning occasionally, if you are using the extra marinade for basting, brush a little onto the burger each time you turn it.
Once cooked, slice your bun, place some of the Chimichurri peppers on the bottom, followed by the burger, top with the spicy sweetcorn relish recipe followed by the top of the bun.
Skewer with the wooden skewer, then slide a few of the spicy onion rings over it.
Serve with your choice of side salad.