Spicy Chilli and Sweetcorn Relish
I've made this a few days ago to go on the next incarnation of the chilli burger recipe (watch this space as  I plan to post each of the side dishes followed by the new burger recipe) it's one of those things that can be made well in advance and then kept in the fridge, it can also be used on all sorts of other things.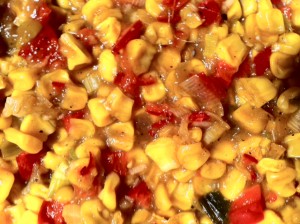 For this particular one I used a tin of sweetcorn, but it's way better if yo get a couple of corn on the cobs then BBQ or griddle them before removing the corn from the cob.
Ingredients
1 tin of sweetcorn in water
60 ml white wine vinegar
1 crushed clove of garlic
1 thumb sized piece of fresh root ginger, grated.
1/2 tsp all spice
30g of brown sugar
1/2 tsp mustard powder
1/2 red pepper, diced into pieces the same size as the sweetcorn
1 red or green chilli, finely sliced
2 spring onions, finely sliced
salt and pepper
1 tsp cornflour
Method
Put the vinegar and sugar in a saucepan and bring to the boil, add the ginger, mustard, garlic, mixed spice and chilli, simmer for 5-10 mins until it starts to thicken
Add the pepper, sweetcorn and spring onion and stir
Add the corn flour and stirl again.
Simmer for 10mins until it thickens and all the vegetables are nice and tender.
Allow to cool then transfer to a sterile jar and place in the fridge for 24 hours before using.