Spicy Stuffed Aubergine Recipe
This is an adaptation of a recipe I saw on the telegraph website, I made it because i'd never used oats as a topping on anything other than crumble before.
Serves 2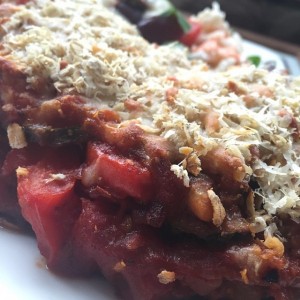 Ingredients
1 tbsp olive oil
1 large red onion, thinly sliced
2 galic cloves, crushed
1 red pepper, de seeded and chopped
1 large courgette, diced
1 large aubergine
400g tinned tomatoes.
Pickled jalapeno
1/2 tsp dried tarragon
1tbsp hendersons relish (worcestershire sauce)
2tbsp porridge oats
2tbsp grated mozzarella or cheddar.
1tsp paprika
1 tbsp breadcumbs
1 tsp chilli flakes
3 tbsp parmesan
tabasco
sugar
salt
pepper
Method
Pre heat your oven to 200 degrees C
Cut the aubergine in half, scoop out the flesh leaving about 0.5 cm of flesh round the edge.
Lay the aubergine face down on a tray and bake for 10-15mins until they soften. While they bake it's time to make the filling.
pour the olive oil into a pan and heat, fry the onion, garlic, red pepper and courgette along with the chopped red chilli, ad a pinch of salt and season well with pepper, fry until soft (about 10mins)
Add the hendersons relish, paprika, tarragon,and tomatoes, simmer for 15-20 mins until you have a thick ratatouille.
Taste then season with salt, pepper and the sugar.
Mix the oats, mozzarella, parmesan, breadcrumbs, chilli flakes and paprika together.
Spoon the ratatouille mix into the aubergine, pressing down nice and firmly.
Top with the parmesan mixture.
Bake for 10-25mins then serve with a nice big salad.