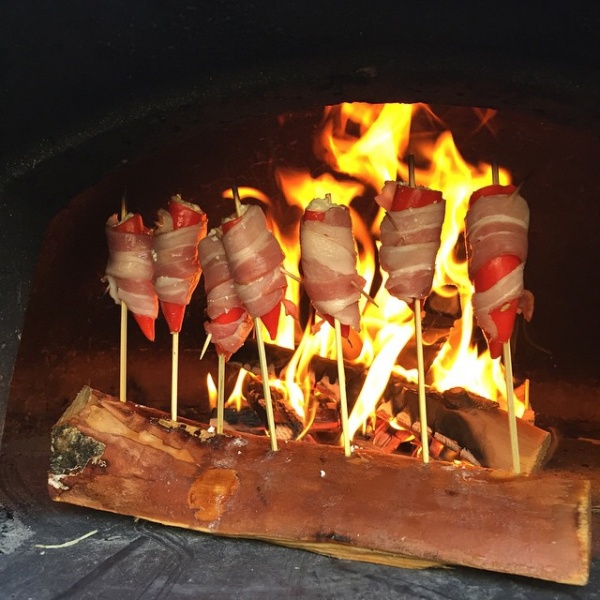 Bacon Wrapped Jalapeno Poppers Recipe
Since getting my wood fired oven (more on that soon) I've been experimenting with ways to use the heat as the oven gets up to pizza temperature to cook snacks or starters, I saw a photo of some of these on Instagram so decided to give them a go, the picture used a fancy bit of kit from Thuros but as I didn't have one I improvised with a bit of wood that I soaked in water and drilled some holes in.
It's now been a regular dish, pretty much every time the oven is fired I make a version of these. If you don't have a wood fired oven you could easily do them on a BBQ or in a normal oven.
If you are using cream cheese then you can mix the hot sauce with it first before putting into the chilli's. Depending on the thickness of your bacon and size of your peppers you may need to use more than one slice, or use a rolling pin to roll the bacon out a little. If you are veggie you could use veggie bacon or leave the bacon out all together.
Ingredients
1 packet of fresh Jalapeños or sweet bite peppers (Aldi, Tesco and Asda all seem to stock various varieties)
1 bottle hot sauce
Cheese, cream cheese, mozzarella or feta works really well…as does chilli cheese for that extra kick.
1 packet of smoked streaky bacon
1 packet cocktail sticks, soaked in water
1 packet wooden skewers, soaked in water
1 block of wood, soaked in water then drilled to hold the skewers.
Method
Slice the top off the chilli's, remove any seeds.
Slice the cheese into small chunks and half fill the each chilli, add a splash of hot sauce to each, then top up with cheese, cramming as much in as you can.
Wrap each chilli with a slice of bacon. Secure in place with a couple of cocktail sticks.
Insert a skewer through each chilli and place into the block of wood.
Roast in front of the fire until the bacon is crisp and the peppers are soft.