Chilli Beef Burgers
Now there are hundreds of different recipes for making great burgers, some take more effort than others, some use crackers or breadcrumbs to bulk them out, some even use fillet steak but I like to keep it nice and simple, all in one bowl and then top them with plenty of stuff.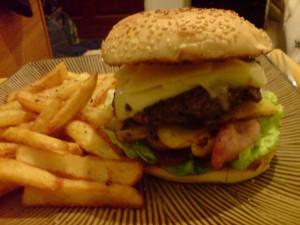 If you're making them in advance you can always fry the onion off and let it cool before adding it to the mix, this helps stop the burger from discolouring before they are cooked.
The one in the pic was topped with the rather none to healthy option of smoked bacon, extra chillis, onion rings and cheese but you can top them with as little or as much as you like and serve them with whatever you like. Home made chips are best though (see here for the recipe)
You can also blend the ingredients in a food processor if you dont want to get your hands mucky (or you could wear rubber gloves). I did try to add kidney beans to the mix once but wasn't keen on the texture so kept it purely to beef for this.
Ingredients
400g lean minced steak
1 nice hot spicy chilli, de seeded and finely chopped, you can also use jarred Jalapenos for ease.
1 small red onion, peeled and finely diced
2 cloves of garlic, peeled and crushed
1 tablespoon Dijon mustard
1 teaspoon smoked paprika
1 teaspoon chilli powder
1 teaspoon of tomato ketchup with chilli
1 egg, beaten
2 teaspoons of Henderson's relish or worcestershire sauce.
1 teaspoon cumin
1 teaspoon dried oregano
Few leaves of fresh coriander, chopped
salt and pepper
Buns, salad and any toppings you want, and a beer to drink with it.
Method
Put  the mince in a bowl with the egg, sprinkle the dried herbs and spices over the top, then using your hands, mix well then add the mustard, ketchup, Henderson's/W.sauce, chillis, garlic and onions. Mix well again.
Take a small amount and shape and form into a micro burger … this allows you to check the seasoning.
Heat a griddle pan or a frying pan up really hot and fry the micro burger until its cooked, taste and adjust your seasoning/flavouring accordingly, if you want them hotter add more chilli etc etc.
Shape the rest of the mixture  into as bigger burgers as you can handle. rub each burger with a little olive oil.
Cook on the heated griddle pan until cooked to your liking, only serve them medium or rare if you are confident on where your meat has come from.
Serve with chips and all the trimmings.