Chimichurri Peppers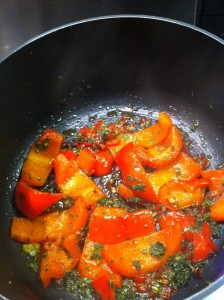 As the second part of the run up to the ultimate chilli burger recipe, here's my recipe for chimichurri peppers that combine perfectly with the spicy sweetcorn relish recipe I posted before.
This is basically enough for  2 hungry people, you can always make them in advance and refrigerate them until needed. They are also really delicious on some thick sliced toasted crusty bread.
Ingredients
1 Red Pepper, de seeded and chopped into nice big chunks
1 hot red chilli, de seeded and finely sliced
1 tbsp honey
1 clove of garlic, crushed
1/2 small bunch parsley coriander, finely chopped
1/2 small bunch of parsley, finely chopped
15ml white wine vinegar
1 tsp dried oregano
salt
pepper
olive oil
Method
Heat the oil in a saucepan, add the chilli, garlic and honey, fry for a couple of minutes, stirring occasionally,  until it starts to caramelise
Add the peppers and then cover the pan with a lid
Fry for 10 minutes, stirring occasionally
When the peppers start to soften add the white wine and the herbs, stir well and cook for another couple of minutes.
Season with salt and pepper then serve, or leave to cool before refrigerating.