Spicy Onion Rings
In the third and penultimate recipe in the run up to my ultimate chilli burger recipe, I give you the perfect crunch to accompany the soft, sticky sweet chimichrri peppers and the spicy sweetcorn relish recipe.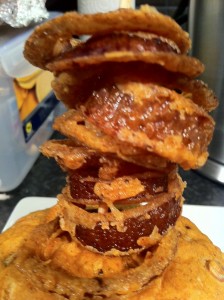 These are different to the lime and chilli onion rings that I did with the spicy crusted steaks a while back, they aren't technically battered just lightly dusted with a lovely spiced flour.
This should serve 2 or 3 people but it's easy to make for more.
Ingredients
1 nice big red onion
2 tbsp plain flor
1 tbsp corn flour
2 tsp chilli powder
2 tsp smoked paprika
1 tsp cumin
salt
pepper
Oil for frying
Milk
Method
Slice your onions into nice thick rings
Place the onions in a dish, and cover with milk, leave for 30mins or so, this helps remove the bitterness and moistens the onion
Place the flour and all of the spices in a bowl, season and mix well.
Drain the onions and toss in the flour, making sure all of the onions are well coated in the mix.
Heat your oil or deep fat fryer to 180 Degrees C
Carefully drop the onion rings into the oil and fry until crisp and golden.
Place on some kitchen paper and then serve.