Smoked Chilli and Fennel Pizza Recipe
I'm completely obsessed with smoked food at the moment, whether it be meat, cheese or chilli's, I'm also totally obsessed with fennel and aniseed (with the exception of ouzo) so when Dave from Hardknott gave me a bottle of his latest beer and told me it contained star anise I couldn't wait to try it (you will be able to read about the beer here soon).
Unfortunately I wasn't allowed to open it until his twitter tasting event.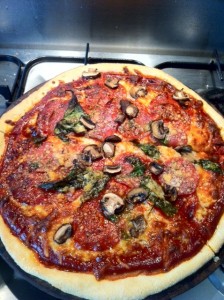 Fortunately that gave me chance to plan a recipe to match the beer. I was just going to buy some Corn Again, chilli and Fennel popcorn but Pizza and beer is one of my favourite combos party because both are so flexible and the combinations are endless and partly because the pizza can be prepped well in advance and cooked when you are ready…even after a few beers.
This pizza recipe uses the same basic dough recipe as my Peppadew Pizza and my Mr Vikkis Smokin Ranch and Mackenzies  smoked chicken pizza but with a little bit of a twist to add some extra crunch, I'm going to go as far as saying it's my favourite pizza dough ever. If you are a vegetarian you can easily substitute the meat for vegetables, maybe even some fresh fennel.
The smoked chilli's were Ancho Mulato  from South Devon Chilli Farm which I bought from Shepherd's Purse in Whitby, they are quite firey so I just used the one, re hydrated it and sliced it up.
The cooking of the pizza requires a pizza stone, if you haven't got one, go and buy one now, they are around £10 and once you've used it you'll wonder how you lived without it. If you don't have one use a big baking tray instead.
Ingredients
For the Base
175g strong plain white flour
1 tsp salt
1 tsp pepper
1 tsp fast action yeast
1 tbsp olive oil
1/2 tsp sugar
Quick cook polenta.
120ml warm water.
For the tomato sauce
1 clove of garlic
1  300g carton pasata
8 basil leaves.
1 Dried smoked chilli, rehydrated and chopped.
Pinch of oregano
1 tbsp Tomato Puree
1 tsp Smoked Paprika
Pinch of Brown Sugar
2 tsp Fennel Seeds, lightly crushed.
Salt
Pepper
Olive oil
You can leave out the chilli if you would like or add some smoked paprika for a little extra twist.
For the topping
Mozerella and Cheddar, grated
Olive oil
Oregano
Hot Peperoni, thinly sliced
Picante chorizo, thinly sliced
Salami, thinly sliced.
3 mushrooms, thinly sliced
Pinch of Fennel Seeds
Black Pepper
Parmesan
Spinach
Method
For the Pizzza
Mix the yeast, water and sugar in a jug and set aside somewhere warm until a crust/scum forms on the top.
Place the flour in a large bowl with the salt and pepper
Add the water and the olive oil and a pinch of salt, mix with a wooden spoon
Once it forms a dough, kneed for 5-10 minutes or until the dough is stretchy, elastic and has a nice sheen to it.
Cover the bowl and put somewhere warm for an hour or so until the dough has doubled in size.
Remove the dough and knock out the air from it. At this point you can wrap in cling film and put in the fridge until required.
For the Smoked Chilli and Fennel Sauce
Heat a heavy based frying pan and add a glug of olive oil, Add the garlic and a squeeze of tomato puree
As soon as the garlic starts to colour add the pasata , followed by the Smoked chilli,sugar, basil, oregano,fennel and paprika
Bring to the boil, stirring continuously. Cook for about 5 mins
Tip the sauce through a sieve, squishing all of the big lumps out.
Discard the basil and any lumps of garlic that are in the sieve.
Put the sauce back into the pan and simmer for 5-10mins until its nice and thick. Season with salt and black pepper.
Set aside until needed, if you put it in a sterilised jar it will keep in the fridge for a week or two.
To make your pizza
When you are ready to cook your pizza:
Tip the polenta onto your worktop,  form the dough into a ball then roll out into a nice big circle. You can make it as thick or as thin as you like but I love mine nice and thin, once the base is rolled you can also sprinkle a little polenta round the edge to help form an extra crunchy crust.
Place your tray or pizza stone in the oven and turn your oven up to 230 Degrees C.
When the oven has been at temperature for 15mins carefully remove your stone/tray and sprinkle with a little flour or semolina and then place your base on top, it will start to bubble and rise which adds a great texture to your pizza.
Spread with a few spoonfulls of your sauce then cover with cheese, add your mushrooms, meats and spinach.
Sprinkle with oregano and fennel along with a little salt and pepper, drizzle with olive oil and the sprinkle some parmesan over the top
Place back in the oven for 10-15mins until your pizza is crispy, golden and bubbling.
Enjoy!