Mr Vikkis Smokin Ranch Pizza with Mackenzies Smoked Chicken.
Regular readers will know that a combo of Mr Vikkis and Ye Olde Friars sent me a couple of packages of hot Cumbrian goodies including the green chilli jam (thoughts on all will be coming soon).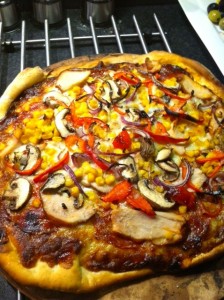 The package also included Mr Vikkis, Harry's Smokin' Ranch Sauce, a sweet and smokey BBQ sauce that uses the delicious chipotle chilli to give the smoked flavour as well as a bit of a chilli kick, it's a fantastic sauce, not to sweet and not too spicy and you can certainly taste the smoke.  Up until today I'd only tried it in sandwiches and wraps, for which it works extremely well, I think it would also work brilliantly as a marinade come the summer for BBQ's and also for making hunters chicken but in this instance I was feeling a bit crazy so decided to use it on home made pizza.
The pizza base was the same as the one I made here, It's tried and tested and works really well, but instead of making the tomato sauce I used a few dollops, well more like half a bottle, of Mr Vikkis Smokin Ranch Sauce.
Basically follow the instructions for the Peppadew pizza until it gets to the topping, smother the base in the ranch sauce then top with mozzarella, thin slices of chorizo, sweetcorn, pepper, mushroom and red onion, not forgetting the most important topping Mackenzies smoked chicken breast and then cook in the same way.
The ranch sauce works great, it's not sickly or too sweet like some BBQ sauces and it's a nice consistency so it doesn't leave the pizza all wet and stodgy.
The Mackenzies Smoked chicken breasts is up there with my favourite meats, I first tried it when I was at the House of Trembling Madness in York on New Years Eve on their platter of smoked meats (fantastic it was too). It's basically a chicken breast smoked over oak to give a delicious juicy, tender and slightly smokey meat, the oak comes through really nicely, even against the chilli and smoke in the ranch sauce.
The pizza as a whole was a triumph, next time I will replace the red pepper with a green pepper to add a little bit of bitterness.
You can buy Mr Vikkis Smokin Ranch sauce from his website here and the chicken from Mackenzies website here, their smoked meats are fantastic and can be eaten hot or cold, and can be used to make truly stunning sandwiches and salads.