Peppadew Pizza
A couple of days ago I saw this video of a lovely lady making a Peppadew pizza and then got http://twitter.com/peppadew_uk on twitter and decided to do my own version of the pizza.
It's not quite as quick and easy as the Peppadew version but I promise it's worth the effort. You can also multiply the recipe to make more pizzas.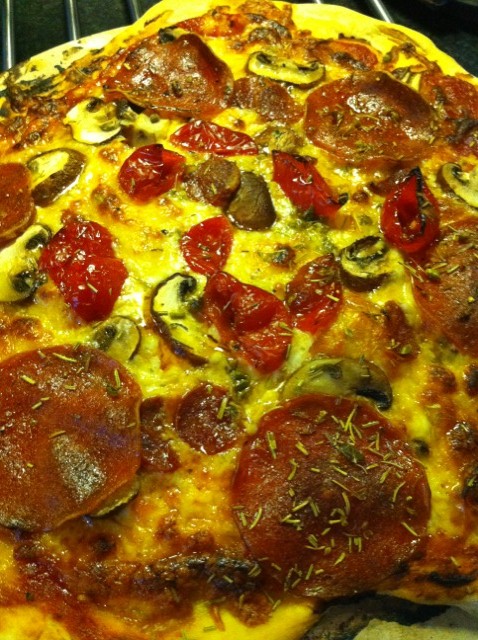 I used my pizza stone, if you don't have one then go and buy one – they really are a must have bit of kit for the kitchen, great for pizzas (obviously) and all sorts of other bread and baking. If you don't want to get one then use a nice thick baking tray Just make sure its really well greased and floured
Here's how it goes:
Ingredients for 1 pizza
For the pizza
175g strong plain white flour
1 tsp salt
1 tsp pepper
1 tsp fast action yeast
1 tbsp olive oil
1/2 tsp sugar
120ml warm water.
For the tomato sauce
1 clove of garlic
1 tin of tomatoes with herbs
1/3rd bunch of basil really finely chopped.
Pinch of chilli flakes
Pinch of oregano
tomato Puree
Salt
Pepper
Olive oil
You can leave out the chilli if you would like or add some smoked paprika for a little extra twist.
For the topping
Mozerella
Olive oil
Oregano
Peppadew peppers
Hot Peperoni, thinly sliced
Picante chorizo, thinly sliced
3 mushrooms, thinly sliced
Rosemary
Black Pepper
Parmesan
You can change the toppings for your preffed ones
Method
For the Pizzza
Mix the yeast, water and sugar in a jug and set aside.
Place the flour in a bowl with the salt and pepper
Add the water and the olive oil and mix with a wooden spoon
Once it forms a dough, kneed for 5 minutes or until the dough is stretchy, elastic and has a nice sheen to it.
Cover the bowl and put somewhere warm for an hour or so until the dough has doubled in size.
Remove the dough and knock out the air from it. At this point you can wrap in cling film and put in the fridge until required.
For the Tomato Sauce
Heat a heavy based frying pan and add a glug of olive oil, Add the garlic and a squeeze of tomato puree
As soon as the garlic starts to colour add the tomatoes, followed by the chilli and dried herbs.
Bring to the boil, stirring continuously. Cook for about 5mins
Tip the tomatoes through a sieve, squishing all of the big lumps out.
Discard the basil and any lumps of garlic that are in the sieve.
Put the sauce back into the pan and simmer for 5-10mins until its nice and thick, if it's still a bit lumpy you can always blitz it in the blender.
Set aside until needed, if you put it in a sterilised jar it will keep in the fridge for a week or two.
To make your pizza
When you are ready to cook your pizza:
Lightly flour your worktop  (you can use semolina if you would like a little bit more crunch on your base) Roll the dough into a ball then roll out into a nice big circle. You can make it as thick or as thin as you like but I love mine nice and thin.
Place your tray or pizza stone in the oven and turn your oven up to 230 Degrees C.
When the oven has been at temperature for 10mins carefully remove your stone/tray and sprinkle with a little flour or semolina and then place your base on top, it will start to bubble and rise which adds a great texture to your pizza
Spread with a few spoonfulls of your sauce then cover with mozerella, add your mushrooms, meats and then as many of the peppadews as you would like
Sprinkle with oregano and herbs along with a little salt and pepper, drizzle with olive oil
Place back in the oven for 10-15mins until your pizza is crispy, golden and bubbling.
Remove, sprinkle with parmesan and then tuck in.