Cheesy Chilli Potato Croquettes
I needed a way to use the potato I had left over from my crispy chilli potato skins so I decided to make some croquettes but with my chilli up north twist. I used chilli jam from Lewis and Cooper but you could use any chilli sauce, jam or chutney.
I deep fried them but if you don't have one you could use some oil in a pan or bake them.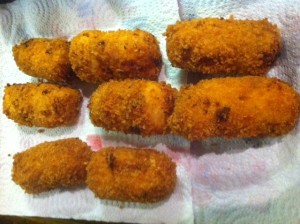 Ingredients
Left over potato, about 400g
Breadcrumbs, preferably Panko
1 egg, beaten
2 tbsp chilli jam
handful of mature cheddar, grated
3 tbsp plain flour
Salt and pepper
Oil for frying
Method
Mash your potato, I used my potato ricer so it got it nice and fine
Add the cheese and chilli jam, season with salt and lots of pepper. Mix well.
Shape the potato into tubes, about the size of a cork.
Roll each tube in the flour, then dip in the egg before rolling in the breadcrumbs
Heat your oil to 180 degrees c
Fry each tube until nice and crispy
Drain on kitchen paper then serve with your choice of dip.