Moggy's Moroccan Inspired Slow Cooked Lamb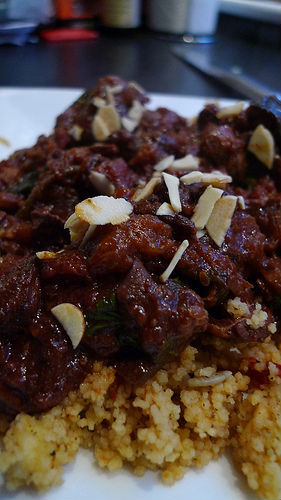 I love Moroccan spiced food,  the deep dark, sticky sweet and spicy flavours that tend to be used really excite me, they are fantastic no matter what the time of year and can be paired with loads of different meats and vegetables.
As a result I decided to have a crack at making my own slow cooked Moroccan inspired lamb and as with a lot of my favourite dishes I decided to cook it in the slow cooker.
As you will see below the ingredients list is quite long, don't be put off they are all simple store cupboard ingredients or things that are really easy to get hold of in your local supermarket. It's basically a one pot dish before it's transferred to the slow cooker. I did all the prep and initial cooking the night before then left it in the slow cooker (switched off) overnight to marinade.
If you haven't got a slow cooker then you can roast it in the oven or leave it on the hob on a low heat for a couple of hours.
You might want to adjust the chilli/cayenne if you don't like it hot, plus if your slow cooker keeps the moisture in then add less water.
Serves: 4-6
Prep time: 15mins
Cooking time: 6-8 hours  (although I left it for 12 as was at work)
Ingredients
600g lamb shoulder (also works well with neck or leg) cut into nice big chunks
Handful of raisins or sultanas
Handful of dried apricots
Handful of dates – chopped
Handful of green beans
1 courgette, chopped into nice big chunks
10 button mushrooms  – chopped in half
2 carrots, chopped into chunks
1 tablespoon tomato puree
1 tin or carton of chopped tomatoes
2 red onions, sliced
3 cloves of garlic, crushed
2 chicken stock cubes
Mug of boiling water
Handful of roast chopped almonds
Small bunch of corriander,chopped
Small bunch of mint,chopped
Small bunch of parsley,chopped
1 tsp cayenne pepper
1 pinch of chilli powder
1 tsp chilli flakes
2 tsp paprika
2 tsp crushed cumin seeds
2 tsp ground ginger
2 tsp tumeric
2 tsp ground cinnamon
pinch of saffron
salt and pepper
olive oil
Cous cous to serve with
Method
Mix all of the dry spices, garlic and tomato purée in a bowl.
Drizzle the chopped lamb with a little oil and sprinkle on a few spoons of the spice mixture.
Heat a big pan on the stove and add the lamb. Fry until browned then remove from the pan.
Add the chopped vegetables and fry for a few minutes until starting to soften
Add the rest of the spices along with the dates, apricots and raisins and crumble the stock cubes in, fry for a minute or so
Add the chopped tomatoes followed by the boiling water, and simmer for 5 minutes, stirring well. Don't worry if it looks a little dry, more moisture will come from the veg as it cooks.
Tip into the slow cooker
6-8 hours before you want to serve it turn your slow cooker on, I used the medium setting.
Just before serving add the chopped mint, coriander and parsley.
Plate up and sprinkle with the almonds, garnish with some fresh herbs, serve with cous cous.