Chilli Up North Hot Chocolate
This is a lovely warm drink for a snowy feb day:
Ingredients:
180ml Milk
1 red chilli deseeded and cut in half.
25g of grated chocolate, i used 72% cocoa.
sugar or honey
pinch of cinnamon
whipped or squirty cream
Method:
Put the milk in a pan with the chilli halves and cinnamon, bring to the boil then remove from the heat and set aside (leave for as long as you have to let the flavours infuse)
when you are ready re heat the milk until warm,remove the chilli halves then add the grated chocolate, sweeten to taste with the sugar or honey.
pour into a glass, top with the whipped cream and the half chilli along with a sprinking of choc and cinnamon.
here is one i made earlier without the cream: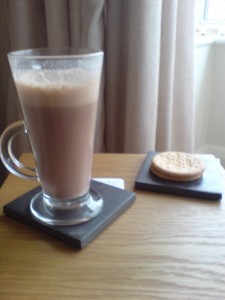 you can also make a quick version by using chilli chocolate or by mixing the chilli with cocoa powder or drinking chocolate instead of using proper chocolate.