Chilli Panko Squid Recipe
I bought some Panko Breadcrumbs to make Paul Ainsworth's arancini a couple of weeks ago and have been trying them out on all sorts of tasty snacks so when I spotted some fresh squid in the shop i decided to make that old favourite calamari.
The recipe serves two and requires a deep fryer or a large pan full of hot oil.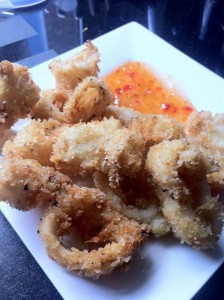 Ingredients
3 or 4 squid, insides, shell (?) and tentacles removed (you can eat the tentacles if you like)
1 egg, beaten
1 tsp chilli powder
1/2 tsp chilli flakes
1/2 tsp smoked paprika
salt
pepper
Plain flour
Panko breadcrumbs.
Sweet chilli sauce and Salad to serve with.
Method
Heat fryer or oil to 190 degrees C
Place the flour in a bowl, the beaten egg in another and the breadcrumbs in a 3rd bowl.
Mix the chilli flakes, chilli powder and paprika with the breadcrumbs
Season the flour with plenty of salt and pepper.
Either cut your squid into rings or nice big chunks. Pat dry with kitchen towel.
Dredge the squid in the flour, followed by the egg and then coat in the breadcrumbs.
Carefully place the squid in the oil and fry for 1-2 minutes until the breadcrumbs are crispy, be careful not to over cook as they squid will turn to rubber. Also watch out for the squid spitting, if you've not dried the squid properly it has a tendency to explode.