Spicy vegetable goulash
This is inspired by the goulash in the Dog and Gun in Keswick and by beef goulash, you don't have to doit in a slow cooker but it's so much easier if you do.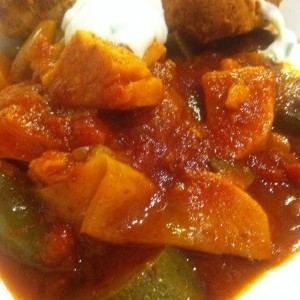 Ingredients
1 Sweet potato, (chopped)
2 carrots , (chopped)
1/2 butternut squash  (chopped)
1 white onion (chopped)
1/2 red pepper (chopped)
1/2 green pepper (chopped)
1/2 yellow (chopped)
3 cloves of garlic (crushed)
1 vegetable stock cube
1 dried chilli (chpoped)
2 teaspoons of paprika
50 g green beans
3 teaspoons smoked paprika
2 teaspoons hot paprika
1/2 teaspoon chilli powder
2 teaspoons carraway seeds (ground)
1 teaspoon oregano
10 mushrooms (more if you wish) (sliced)
salt + pepper
juice of 1 lemon
1 tin of chopped  tomatoes
1 tablespoon tomato puree
1 tablespoon hendersons relish or Lea & Perrins
1/2 teaspoon thyme
olive oil
1 teaspoon honey
100ml water.
Then you need dumplings,sour cream and crusty bread to serve with it…oh and a nice crisp beer or quality lager.
 Method
Heat some olive oil in a pan and fry all of the vegetables.
Add the garlic, tomatoes and stock cube, hendersons relish along with all of the herbs and spices and tomato puree, stir well for 5 minutes, then taste, adjust the seasoning with salt, pepper and honey. You can also add more of the herbs and spices if you want.
If it looks a bit thick add the water and stir well.
Now either transfer to a slow cooker for 6-7 hours or leave cover and simmer on the hob for a 2-3 hours
Squeeze in the lemon juice, Serve with warm crusty bread, dumplings and a glass of beer.