Spicy Prawn and Chorizo Rice with a hint of Tabasco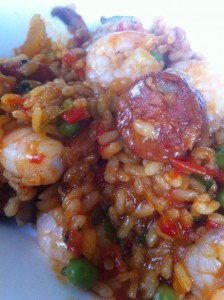 This is a modification of a recipe I found on the Internet, It's really simple, tasty and filling, It would also be great with a big hunk of crusty bread but I didn't bother this time.
Serves 2
Ingredients
100g Chorizo, chopped into chunks
1 small packet of large prawns (I used cooked as they shop didn't have raw ones)
100g of Paella rice
1/2 red pepper, sliced
1/2 green pepper, sliced
2 mushrooms, sliced
2 tbsp frozen peas
1 small white onion
pinch of saffron
350ml chicken stock
2 tbsp olive oil
small handful of parsley, chopped
1 tsp smoked paprika
4 small san marzano, quartered
Juice of half a lemon
Tabasco
Salt
Pepper
Method
Heat the olive oil in a large pan, fry the onion, mushroom and peppers for a few minutes until soft
Add the chorizo and fry for a few more minutes until the oil starts to come out of the chorizo
Tip in the rice, stir well
Add the stock along with the pinch of saffron and the paprika and a little salt and pepper.
Cover with a lid and leave on a medium heat for 15minutes, checking occasionally to make sure it hasn't dried out completely
2 minutes before serving, stir in the lemon juice, a good splash of Tabasco, the sliced tomato, prawn and peas
Once the peas are cooked, stir in the  parsley and serve.