Mr Vikkis Max's Urban Ketchup Burgers
Regular readers of the blog will know I've posted a couple of burger recipes before (including my favourite spicy chipotle burger recipe) tonight I tried yet another recipe, mainly because I quite fancied something simple but with lots of easy trimmings. It went something like this.
This makes 4 burgers or 2 really big ones…I made 4 and froze 2.
Oh and before I forget Max's Urban Ketchup is yet another cracking product from Mr Vikkis, It's got a lovely level of heat with a little bit of a tang and is packed full of really tasty tomato….It also goes brilliantly on scrambled eggs on toast and fish finger sandwiches. If you don't have it you can always replace it with normal Tomato sauce, chilli sauce or even some chipotle sauce.
If you have time once you've made the burger mix, shape and chill it for 30mins or so..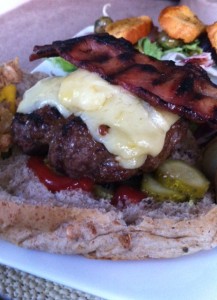 Ingredients
500g minced steak
2 big glugs (about 2 tablespoons) of Max's Urban Ketchup
Salt
Pepper
2 tsp Mixed dried herbs
1 tablespoon Hendersons Relish (use Worcestershire sauce if you haven't got Hendersons.
Olive Oil
Trimmings
Gherkins
Sliced Jalepeno
American mustard
Bread Buns
Crispy Onions
Mr Vikkis Max's Urban Ketchup
1 slice of smokey bacon per burger.
Smoked cheese or a really nice mature cheddar.
Salad to serve
1 sheet tin foil
Griddle pan
Method
Place mince in a large bowl, add the herbs, 2 glugs of Max's Urban Ketchup and the Hendersons Relish, Season with plenty of salt and even more pepper. Then squish together and mix really well with your hands.
Divide the mix into either 2 or 4 burger shapes, wrap each in clingfilm and chill for as long as possible, this helps the burgers stay together without the need for using egg or breadcrumbs.
Heat your griddle pan until it's smoking hot. rub each burger with a little olive oil and then place on the griddle.
Cook for a few minutes before flipping and cooking for a further few minutes, add bacon to the griddle pan. Tun the bacon once its cooked for a couple of minutes.
Flip the burgers again, place cheese on top of the burgers then cover with the foil, this helps melt the cheese. Turn griddle pan off.
Split your bread buns, Spread some mustard and Max's Urban Ketchup on the bottom of the bun, slice gherkins and add them along with a couple of salad leaves.
Place your burger in the bun, top with the baco, Jalepeno and some crispy onion bits
Serve with salad.
PS if you want a beer to go with it pop down to Morrisons and get some Daniel Thwaites IPA its absolutely delicious.