Minted Chilli Lamb
This uses a similar blend of spices to the Lamb, feta, chilli and mint parcels I blogged here. Although it's way simpler.
How long you leave the lamb to marinade is up to you, I left mine for about 12 hours.
Serves 2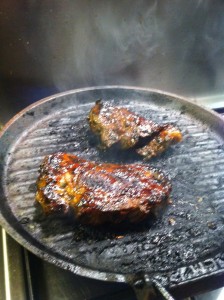 Ingredients
2 Lamb leg steaks
2 tablespoons sweet chilli sauce
2 tablespoons mint sauce
salt
pepper
veg to serve with
Griddle pan
Zip lock back.
Kitchen foil
Method
Put the mint sauce and chilli sauce in the zip lock bag along with a pinch of salt and pepper. Seal the bag and shake and squish until the two sauces are well mixed.
Place the lamb in the bag, re seal and then squish and mix well, working the sauce into the meat, place in the fridge for as long as you can.
Remove the lamb about 10-15 minutes before you are going to cook it.
Heat your griddle pan so its smoking hot
Place the lamb on the griddle cook until it's to your liking,  Turning and basting with the left over sauce every now and then,I did mine for about 5 mins either side then a few minutes on the skin to crisp it up, as I like mine medium/rare.
Remove the lamb from the griddle, wrap in foil and rest for 5-10minutes.
Serve with your choice of veg and drizzle with the resting juices.