Jamie Oliver's Spicy Southern Sausages Stew.
This recipe is taken straight from Jamie Oliver's website and Jamie's America Book, I made it last night and it was absolutely delicious, the only thing I changed was I used a bit less stock (5ooml) and chucked in a big squirt of spicy chipotle sauce.
I used Morrisons the Best Pirri Pirri Sausages to give a bit of extra kick too.
It took about 40mins for me to get the sauce to thicken, next time I'd be quite tempted to do it in the slow cooker.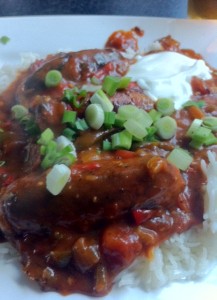 Ingredients
olive oil
good-quality sausages (about 2 or 3 per person)
1 onion, peeled and roughly chopped
1 red pepper, deseeded and roughly chopped
1 green pepper, deseeded and roughly chopped
1 yellow pepper, deseeded and roughly chopped
2 sticks of celery, trimmed and roughly chopped, yellow leaves reserved
4 cloves of garlic, peeled and chopped
1–2 fresh red chillies, deseeded and finely chopped
0 sprigs of fresh thyme, leaves picked
1 heaped teaspoon paprika
1 heaped teaspoon cayenne pepper
2–3 heaped tablespoons plain flour
1 tablespoon white wine or cider vinegar
750ml chicken stock, preferably organic
1 x 400g tin of chopped tomatoes
sea salt and freshly ground black pepper
cooked long-grain rice, to serve
3 spring onions, trimmed and finely sliced
a small bunch of fresh curly parsley, roughly chopped
Method
Put a splash of olive oil in a pan and let it get hot. Add your sausages and let them cook away so they brown nicely on all sides. Once golden and crisp, take them out of the pan and put them on a plate to rest. Depending on your sausages, there may be a lot of fat left behind in the pan. You only want to keep about 4 tablespoons of it in the pan, so carefully pour any extra away. If you don't have enough, just add a splash more olive oil.
Add your onion, peppers and celery to the fat and fry on a medium heat for 10 to 12 minutes, stirring occasionally, until softened. Stir in your garlic, chilli, thyme and spices and fry for another minute or two. Stir in your flour and vinegar, and after a couple of minutes add your browned sausages, chicken stock and tinned tomatoes, using a wooden spoon to break them up a little. Season with a nice big pinch of salt and pepper, stir, then bring to the boil and let it tick away for 15 minutes or so until you have a thick and delicious gravy.
Serve with a hearty spoonful of rice on the side and sprinkle over some sliced spring onion, chopped parsley and any reserved celery leaves. Really tasty stuff!