Jack Daniels Hot Chilli Sauce Chicken with Bulgur Wheat
This is straight from the Hairy Dieters book apart from I substituted the Harissa for some Jack Daniels Hot Chilli sauce.
I love Harissa and I've made the recipe loads with it but it works just as well with the Jack Daniels sauce, it's got a decent enough kick to it the best bit however is the whisky flavour that comes through adding a nice little twist to normal BBQ style sauces and a little sweetness to work against the chilli.
It would be great done on the BBQ especially as you can make the salad in advance or while the chicken is cooking.
Serves 4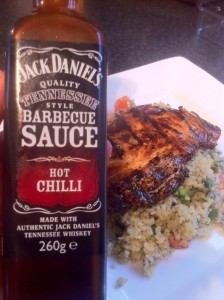 Bulgur wheat salad
100g bulgur wheat
150g cherry tomatoes, halved or quartered if large
1/4 cucumber, diced
4 spring onions, trimmed and finely sliced
1 garlic clove, peeled and crushed
small bunch of flat-leaf parsley (about 10g), plus extra to garnish
small bunch of fresh mint (about 10g)
finely grated zest of 1/2 unwaxed lemon
freshly squeezed juice of 1/2 lemon
freshly ground black pepper
Chicken:
4 boneless, skinless chicken breasts
1/2 tsp sunflower oil
3 tbsp Jack Daniels Hot Chilli Sauce
lemon wedges, to serve
Method
To make the salad, rinse the bulgur wheat in a fine sieve and tip it into a medium saucepan. Cover with cold water and bring to the boil, then cook for about 10 minutes until just tender, or follow the packet instructions. Rinse the bulgur in a sieve under running water until cold and leave to drain.
Tip the cooked bulgur wheat into a large serving bowl and add the tomatoes, cucumber, spring onions, garlic, parsley, mint, lemon zest and juice. You'll need about 3 heaped tablespoons of each herb once chopped. Season with lots of freshly ground black pepper, toss everything together well and leave to stand while you cook the chicken.
Place each chicken breast between 2 sheets of cling film and beat with a rolling pin until about 1.5cm thick. You need to make the chicken breasts about the same thickness so they cook evenly.
Brush a griddle pan or non-stick frying pan with a little oil and place over a medium-high heat until hot. Griddle or pan-fry the chicken breasts for 2 minutes, then turn them over with tongs and cook on the other side for another 2 minutes.
Brush the chicken breasts with half of the hot sauce on 1 side only and turn over. Cook for a minute while brushing the reverse side with the remaining hot sauce. Flip over and cook for a further minute or until cooked through. Check that there is no pinkness remaining.
Transfer the chicken to a board and leave to rest for 3–4 minutes before serving. Garnish with extra parsley and the lemon wedges and serve hot with the bulgur salad.
Check out the Jack Daniels sauce website here