Chilli and Cherry Glazed Ham
I know you are all probably sick of Ham and Gammon after the festive period but now is a great time to buy a nice big ham as they are on offer just about everywhere.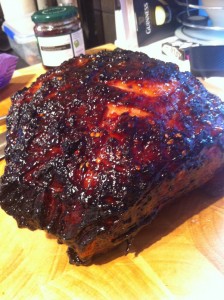 This is pretty much a Jamie Oliver recipe out of a little booklet that my future mother in law gave me a few weeks ago, I changed it slightly as I could't get any plum jam so ended up buying some cherry jam instead.
How long you cook the meat for will depend on the size of your joint and how well done you like it.
As well as the chilli flakes you could also add some sliced fresh chillis or sliced pickled Jalepeno towards the end of glazing.
The broth from the initial cooking can be used for soup or stock if it's not too salty and the juices from roasting make wicked gravy.
The meat is delicious hot or cold and will last a while in an air tight container in the fridge.
Ingredients
3Kg Gammon joint (smoked or unsmoked it's up to you)
1/2 tbsp whole black peppercorns
1/2 tbsp whole white peppercorns (or you can just use a whole tbsp of black ones)
1 onion, peeled and cut into wedges
1  carrot, cut into chunks
A few sprigs of fresh Thyme
1 Piece of celery, cut into chunts
Water.
1/2 jar of cherry jam
1 tsp chilli flakes.
1 fresh chilli, halved (optional)
6 cloves (optional)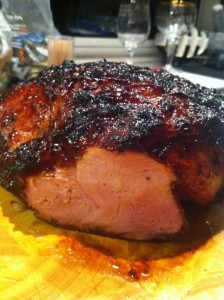 Method
Pre heat your ove to 160 degrees.
Place the meat in a roasting tray or a large pan that you can fit in your oven.
Fill with water so it comes about half way up meat.
Place the onion, celery, carrot, thyme, peppercorns, cloves and fresh chilli around the meat.
Cover the pan with a lid or foil and bake for 90 mins and cooked through (use a meat thermometer to check if you have one)
Remove from the oven, keep it covered and leave to cool for at least 30mins.
Once the meat is cool enough to handle, remove most of the skin, leaving a thin layer of fat on the top.
Carefully use a sharp knife to score the fat in a diamond pattern.
Turn the oven up to 200 degrees
Put the meat back into the oven and put the meat back in for 30-40 mins until the fat starts to crisp up.
Carefully spread some cherry jam over the meat, sprinkle with chilli flakes and then place back in the oven.
Now this bit is where you need to use your judgement, keep roasting the meat for 30-60 mins, basting and adding more jam if necessary, until the jam is crisp and sticky and the meat is cooked how you like it.
Remove from the oven, leave to cool lightly and then slice and serve.