Picante Tortilla Recipe
I've been meaning to have a crack at a Spanish omelette or Tortilla for ages and finally got round to it tonight.
All the quantities are kind of estimates as I just used what I had to hand, It was great warm but even better cold.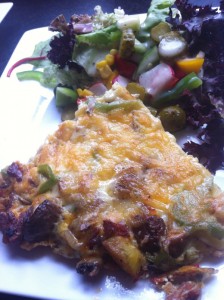 If you are of the vegetarian persuasion you can leave the chorizo out and add a pinch or two of smoked paprika and some crushed garlic.
Ingredients
1 white onion, sliced
handful of new potatoes
1 green pepper, sliced
1 picante chorizo, diced,
1 red chilli, sliced
1 green chilli, sliced
handful grated mature cheddar
handful of grated parmesan
2tsp oregano
knob of butter
5 button mushrooms (or a few more if you like), sliced
6 large fresh free range eggs, beaten
salt,
pepper
Method
Boil the new potatoes in water until soft, leave to cool, then roughly chop.
Heat a large frying pan, add the chorizo until crispy, if lots of fat comes out you may want to drain it now.
Add the potatoes and a knob of butter, fry until the potatoes are crispy round the edge.
Add the onion, pepper, mushroom, chilli and herbs, fry until the veg is soft.
Season with salt and pepper
Add the beaten eggs, making sure it spreads evenly throughout the pan.
Cook for a few minutes until it starts to stiffen up
Top with the cheese and place under the grill until the cheese has melted.
Serve with Salad.