Chillifest North East 7th and 8th July 2012
A north east food festival being planned for this summer is guaranteeing one thing that the event will definitely be is hot!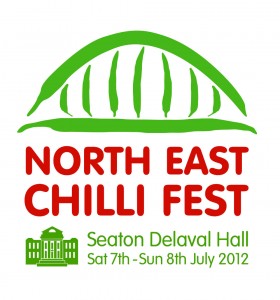 The inaugural North East Chill Festival will be held in the historic grounds of Seaton Delaval Hall, Northumberland on Saturday, 7 and Sunday, 8 July with a host of the UK's top chilli producers.
The event organised by Northumberland-based Hot Stuff Chilli, award-winning Newcastle-based deli mmm… and National Trust is set to offer chilli fans the opportunity to taste some of the world's hottest food – if they dare.
With a host of the UK's most respected producers already signed up for the event, north east 'chilli heads' will be able to taste chillies, including the world's current hottest specimen, the Trinidad 'Moruga Scorpion'.
And organisers are also telling non-chilli lovers the event will be a lot more than just heat – with a host of music, strolling bands, children's activities, an international food marquee, picnic areas, history, walks, games and more.
Tickets for the event are now on sale – with an initial 2-for-1 and children go free deals being offered via the event's website atwww.chillifest-ne.co.uk and at mmm… in Newcastle's Grainger Market.
Mark Deakin, owner of Hot Stuff Chilli, sees the event as something to truly put the north east on the UK chilli map.
He said: "Chilli festivals are held all over the UK, attracting thousands of visitors, and for a long time the north east has been missing out.
"There is a host of producers of award-winning spicy food in the region and we want to bring them together with the UK's finest in a superb venue for what we think will be a regular family event for the region."
Simone Clarkin, owner of mmm…, is a keen supporter of small food producers, and works with over 100 producers from across the UK.
She said: "We are constantly amazed at the variety of great handmade food being made in the region and across the UK.
"We are on a mission to get people to really appreciate the time, effort and care these producers put into their food – and really taste the difference.
"This event is a great opportunity to promote the region's producers of spicy foods and show they sit firmly alongside the UK's best."
Alison Forbes, Events Coordinator for National Trust, was delighted organisers saw the almost 300 year old hall as the ideal location for the inaugural festival.
"National Trust is always looking for ways to attract new visitors to historic properties like Seaton Delaval Hall, and we look forward to welcoming thousands of people from the north east and beyond to the hall this July.
"The backdrop for the festival is superb and we can promise a great weekend, with more than just hot chillies on the menu for anyone coming to the event."
Cllr George Todd, chairman of Northumberland County Council, said: "The plans look really exciting and I'm sure the festival will bring in the crowds.
"This is a fantastic venue that is really becoming a part of the community and we wish the organisers every success.
"Events like this help bring more people into Northumberland to sample for themselves everything we have to offer."
The North East Chilli Festival will be held on Saturday, 7 and Sunday, 8 July at Seaton Delaval Hall, The Avenue, Seaton Sluice, Northumberland, NE26 4QR.
For ticket offers, news, opening times, travel details and exhibitor details visit www.chillifest-ne.co.uk
Social media users can also follow @chillifest_ne on Twitter or www.facebook.com/northeastchillifest on Facebook.
For more information call: