Smart Arse Chilli Sauce from the One Stop Hot Shop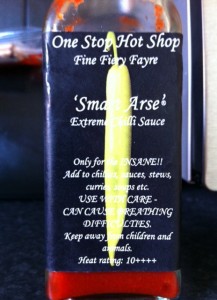 This super hot chilli sauce came in the package that the One Stop Hot Shop sent me, along with the Old Smokey sauce. I was looking forward to giving this one a go as I'd already tried it's hotter offspring "Son of Smart arse" a while back at a party.
The label on the bottle warns It's extreme and it's not joking, it even smells dangerous. I put a tiny bit onto some mature cheddar on a jacobs cracker and took a bite, the heat didn't hit me straight away, the sauce was tasty, quite sweet and predominantly tasted of chilli (what else??) it's slightly sweet, slightly tart and there's a little bit of pepper in there too, then all of a sudden the chilli kicks in and batters your senses, the burn starts and things get really hot.
As promised it's a seriously hot sauce and one you don't want to use too much of in one go, although it's stupidly addictive and I keep dipping back into the bottle for a heat fix. So far i've not tried it on anything other than cheese on toast and cheese on crackers, I think I will have to get a bit more adventurous soon.
If you like your chilli sauces crazy hot then this one is definitely up there for flavour and heat.