Hot Chilli Jellies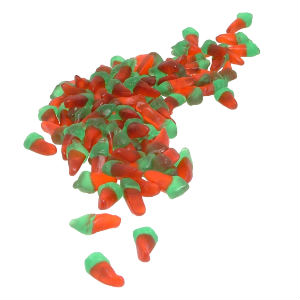 Last week I received these wonderful looking hot chilli jellies in the post along with some chilli fudge (more about that later), they were from Ye Olde Friars in Keswick, a shop that I have to visit every time I go to Keswick (along with Open All Hours for the beer) and until now I had never noticed that they sold chilli jelly sweets or chilli fudge for that matter.
They come in 200g bags and cost £1.75, which is great value as you seem to get loads of little jelly chillies for your money, not to mention they are way cheaper than the ones you can get from firebox.com
They smell delicious, sweet, sticky and spicy, similar to the cherry jellies you can get but more spicy! The look like little chillies and were all a pretty uniform shape so you can definitely tell they are chillis.
Above all they taste great, they have a lovely sweet chilli flavour followed by a good bit of spicey chilli fire which builds up the more you scoff and believe me you will scoff lots as they are so tasty.
If you like things on the spicy side then you won't be disappointed, if you don't then you might find them a little too spicy.
If you want to try them for your self and can't get to Keswick then you can order some via the Ye Old Friars website you can also visit their facebook page here or follow them on twitter here
Chilli Up North Verdict, Sweet, Spicy and really moreish – 9/10 (heat 7/10)