Fire Foods: Chilli Choc Drops
A few days ago Woody from Fire Foods got in touch via twitter and asked if I would like to try some of his firey foods, this was too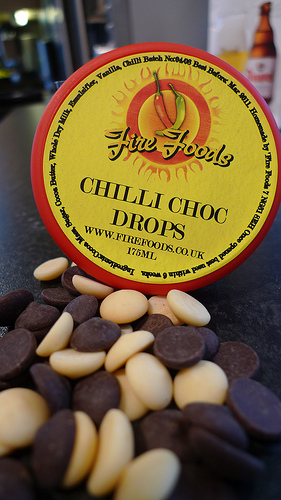 good an offer to turn down and so a couple of days later a packaged arrived containing a few of their hottest treats.
I decided to start with what I thought would be the least firey of the bunch and so opened the Chilli Chocolate Drops, they come in a lovely black plastic pot with a red lid and luminous yellow label, the packaging certainly gave the impression that the contents was going to be rather spicy.
The tub contained a mix of white chocolate and dark chocolate drops that have been infused with chilli, the smelled and looked wonderful, sweet with pungent chilli notes, some of the white chocolate drops were tinged read with chilli too.
Flavour wise they were fab, not too sweet and not too spicy they had a lovely dry chilli flavour and a little bit of burn which built up the more you ate.
I passed them round some of my friends and family and the general consensus were that they loved the head and flavour although it was a little bit too much for some.
The Chilli Choc drops cost £3 per jar which is pretty good value for money as you get plenty of lovely little button sized drops, although they are so moreish they don't last long so you should probably buy a couple of jars (you can buy them here)
Chilli Up North Verdict:  Great chocolatey treat with a nice level of heat, would be great for using on cakes as well as with a cuppa –  without it 8/10  (heat 6/10)