Eat17 Chilli Bacon Jam
A couple of weeks ago while on a whistle stop visit to mmm Newcastle  I bought a jar of Eat17's Chilli Bacon Jam, that's right you read it correctly…chilli bacon jam.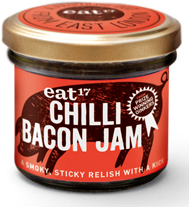 In a nutshell it's jam made with real smoked bacon, chipotle morita chilli, maple syrup and bourbon. It's sticky yet crunchy, slightly sweet, smoky and has a lovely chilli kick.
It's stupidly addictive once you pop that lid and tuck in it's quite hard to stop eating you'll soon be trying to put it on and in everything. Chilli Bacon Jam works brilliantly with cheese, cheese on toast, ham, burgers, steak, sausages and even scrambled eggs. I'm thinking it might work quite well spread on cod loin and roasted.
I really do love the flavours and textures, I'm almost tempted to try and make a batch my self but to be honest It's easier and probably tastier to just buy it from the shop.
It's not cheap at around £4 for the 110g jar but it really is worth it, so what are you waiting for…  check out their website here