Dominos Reggae Reggae Pizza
Yesterday when a press release landed in my inbox I got quite excited, Domino's the pizza delivery expert have teamed up with legendary singing spicy sauce creator Levy Roots and released the Reggae Reggae Pizza.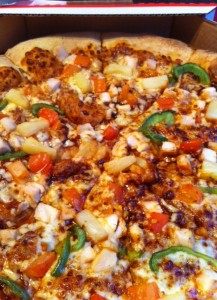 We'll when I say released it's not officially available until April 11th, but the press release said that if you visit Domino's Facebook page you can order one as a "special", preview for liking the page, not only that you get a large Reggae Reggae Pizza for £9.99 delivered.
So just before leaving work I clicked the button on the facebook page, entered my local branch, chose to have the pizza delivered at 19:00, paid via paypal and that as that, nice and quick and easy.
18:50 the bell rang and our Reggae Reggae Pizza arrived, It looked and smelled delicious. The pizza is Domino's standard pizza base, smothered in Levi's legendary Reggae Reggae Sauce, which is a blend of secret herbs and spices, then covered in cheese and topped with chicken, green peppers, pineapple and tomato. There's also a veggie option for those of you who don't like chicken.
Overall I think the pizza was great, the base was light and crispy, the sauce was tangy and packed full of flavour, there was a nice level of spice that made your tongue tingle and just a hint of sweetness that didn't ever get sickly. The toppings we're great but I'd have liked bigger bits of chicken and more of them.
The pizza is a bit of a triumph and I'll certainly be buying one again, unlike the Birdseye Reggae Reggae Chicken Chargrills which I think were a bit of a let down and no where near up to the standard I've come to expect of Levi Roots and the Reggae Reggae crew.