Chilli and Chocolate Crisps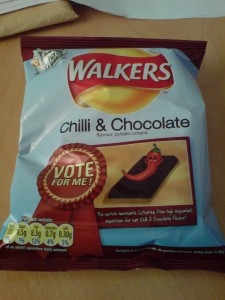 I've just sampled the Walkers do us a flavour, Chilli and Chocolate crisps.
They were nice but definatley more chilli than chocolate, but they did have a sweet aftertaste which i guess you would put down to the chocolate.
They are the only ones ive tried yet so im not going to vote until ive tried the rest and also tried another packet of these just to make doubly sure.
I will also add that ive never been a fan of walkers crisps as they are a bit thin and soft, kettle chips are far better ;o)