The Good Kebab Guide: A Salad-dodger's Guide to the UK's Best Kebabs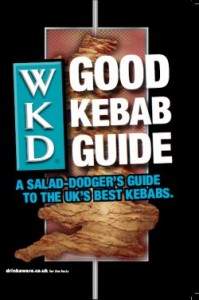 A couple of weeks ago the lovely people at WKD sent me a couple of copies of their new book "The Good Kebab GuideL A Salad-dodger's Guide to the UK's Best Kebabs"
It's a light heated look at some of the best kebab houses and take aways that grace our green and pleasant lands with a good bit of history and some interesting anicdoes thrown in along the way.
Unfortunately none of the places mentioned are any where near me so i couldn't go and check them out for my self.
It's a great little book that you can buy from Amazon for less than a fiver, alternatively leave a comment below and the best one will win a copy of the book.
so go on, get commenting…recipies, kebab stories…anything really…