National Curry Week
If you didn't already know then this coming week is national curry week, so today I went out and bought the ingredients to make slow cooked lamb curry, I am also going to get a bottle of Cobra ,If I don't @kirsty won't speak to me again, plus Cobra have put a lot of effort into promoting curry week (and their brand ;o) ) they have even set up a find out which curry you are for twtitter users, you can find it here.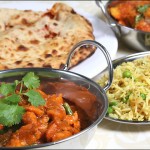 It said I was a Bhuna..Bhunas contain strong flavours, with little sauce – much like you, who is straightforward, honest and constantly cuts to the chase.
Apparently that sounds just like me ;o)
They have also added a rather handy curry finder which helps you find the nearest curry house to you, this can be found here
I'm a huge curry fan – nearly 5 years living in Bradford opened my eyes to the wide variety avaible, different methods and just how tasty a proper curry is. I am ashamed to say i don't often make curry, mainly because we have a couple of brilliant local curry houses so we usually just walk down to those.
But as it's National Curry Week I am going to make a special effort and make my own curry.
The curry I will be cooking comes from Jamie Oliver's The Return of the Naked Chef, hopefully he won't mind me putting it below (I will update the post once I have made it to let you know what it's like. The only changes I am making are Im going to add some extra veg as I quite like veg in my curry and also I plan to make it the night before then leave it in the slow cooker while we are at work.
So here is the recipe, if you are planning on enjoying National Curry week then please let me know what you have planned and how it goes.
Peter's Lamb Curry (from Jamie's book The Return of the Naked Chef) – serves 8.
2 tablespoons butter
2 x 400g tins of chopped tomatoes
285ml/1/2 pint stock or water
1.5kg/3 1/2lb leg of lamb, diced
1 handful of chopped mint and coriander
285ml/1/2 pint natural yoghurt
salt and freshly ground black pepper
lime juice to taste
Hot and Fragrant Rub Mix
2 tablespoons fennel seeds
2 tablespoons cumin seeds
2 tablespoons coriander seeds
1/2 tablespoon fenugreek seeds
1/2 tablespoon black peppercorns
1 clove
1/2 a cinnamon stick
2 cardamom pods
salt and freshly ground black pepper
Curry Paste Ingredients
5cm/2 inches fresh ginger, peeled
2 tennis-ball-sized red onions, peeled
10 cloves of garlic, peeled
2 fresh chillies, with seeds
1 bunch of fresh coriander
Method
Preheat your oven to 170C/325F/Gas 3.
Lightly toast the fragrant rub mix in the oven or under the grill.  Chop the curry paste ingredients roughly, add the rub mix and puree in a food processor.
In a large casserole pan, fry the curry paste mixture in the butter until it goes golden, stirring regularly.  Add the tomatoes and the stock or water.  Bring to the boil, cover with kitchen foil and place in the oven for one and a half hours to intensify the flavour.  Remove the foil and continue to simmer on the stove until it thickens.  This is your basic curry sauce.
Fry the lamb in a little olive oil until golden, then add to the curry sauce and simmer for around 1 hour or until tender.
Sprinkle with chopped coriander and mint and stir in the yoghurt.  Season to taste and add a good squeeze of lime juice.  Serve with spiced breads, steamed basmati rice and lots and lots of cold beer.
Feel free to vary the curry by using diced chicken, prawns or paneer, or vegetables like Swiss chard, spinach, peas, cauliflower, fried aubergine, okra, boiled potatoes, chickpeas or lentils.