Chilli Chocolate Fridge Cake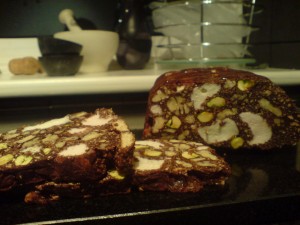 This is another  modified Jamie oliver recipe, to give it the Chilli Up North twist.
Instead of fresh chilli you could always use chilli chocolate. It's also quite nice if you replace the nuts with coffee beans.
Ingredients
200g digestive biscuits
110g whole pecans, roughly chopped
110g pistachio nuts, peeled
12 glace cherries
2 fresh red chillis, de seeded and sliced
Big handful of chopped marshmallows (jamie uses 2 ready-made meringue nests, smashed up but i prefer marshmallows)
150g unsalted butter
1 tablespoon golden syrup or honey
200g dark chocolate
Method
Break the biscuits into small pieces directly into a large bowl. Add the pecans, pistachio nuts, marshmallows and cherries and mix together. Put the rest of the ingredients into a separate, heatproof bowl and put on a low heat over a pan of simmering water until the butter and chocolate have melted.
Combine the biscuit mix with the chocolate mixture. Line a 30 x 20 cm plastic container with clingfilm, leaving plenty of extra film at the edges to help turn the cake out later. Whack everything into the container, place in the fridge to firm up then turn out and cut into chunky slices.
This cake can be kept in an airtight container for a few days, and it actually improves in flavour.