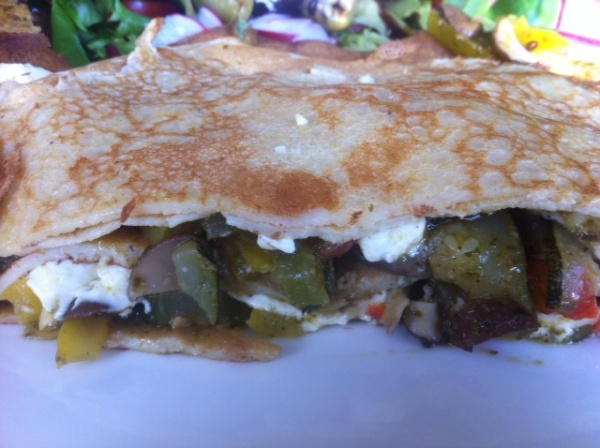 Spicy Vegetable and Pancake Stack Recipe
This was something I'd fancied trying for a while but hadn't got round to it, the filling would work really well if you rolled the pancakes up and covered with a tomato or cheese sauce. If you can't get hot chilli pesto try using normal green pesto as that also gives it a lovely flavour. It would also work really well with pretty much any spices or seasoning on your vegetables.
The recipe makes more pancakes than you need but you can freeze them and they will keep for a few months.
I served it with a slice of garlic bread and huge bowl of salad.
Serves 2-3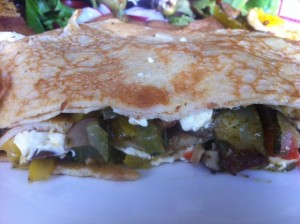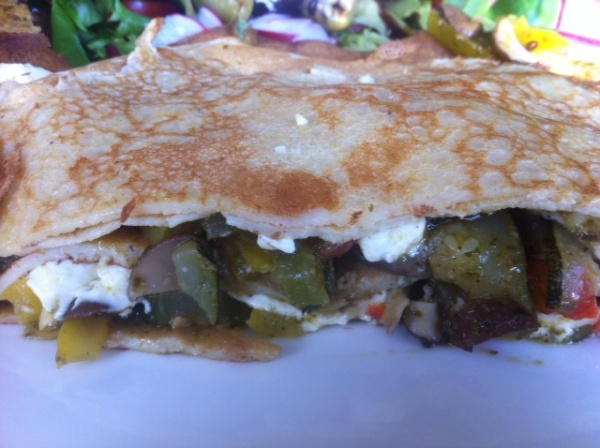 Ingredients
110g  plain flour
Salt
Pepper
pinch of chilli flakes
2 eggs
200ml milk mixed with 75ml water
Olive oil.
1/2 red pepper, sliced
1/2 green pepper, sliced
1/2 yellow pepper, sliced
4 chestnut mushrooms, sliced
1/2 courgette, sliced
2 tsp hot chilli pesto
100g feta cheese.
Method
Pre heat your oven to 200 degrees

Mix the flour, eggs and milk mixture in a large bowl and whisk until smooth, add a pinch of salt, pepper and chilli flakes and mix again. Set aside
Heat a little olive oil in a frying pan, fry the peppers, mushrooms and courgette for 2 mins until soft add the chilli pesto and mix. Season with salt and pepper.
Place in an oven proof dish, cover with foil and place in oven to keep warm.
Wipe the pan out and add a drizzle of olive oil, add a large spoonful of the batter and spread out to create a thin pancake, cook until brown and bubbling, then flip or toss over and cook until browned, place on a plate.
Repeat until you've used all of the mixture.
Remove the vegetables from the oven.
Place a pancake on a baking tray, top with some of the vegetable mix, crumble over a little feta, top with a pancake followed by some more of the vegetable mixture and feta, repeat until you have used all of the vegetable mix up or you have as many layers as you want, making sure there is a pancake on top.
Place in the oven for a few minutes to warm through while you prepare your salad.
Slice and serve.