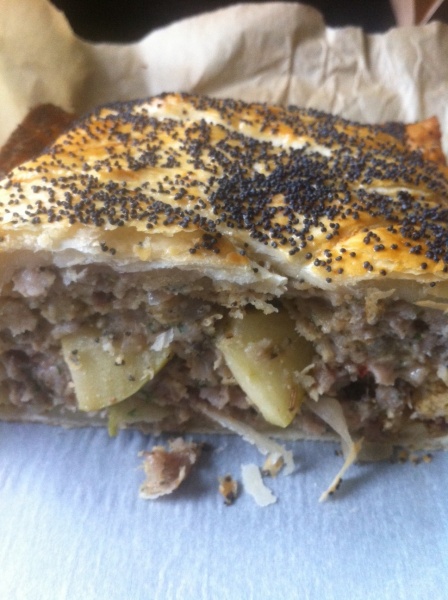 Spicy Sausage and Apple Roll
This is such a delicious recipe whether you serve it hot or cold, it can be made as one big sausage roll or separate little ones.
You can use what ever sausage meat you like as long as it's good quality, you can buy sausage meat or take the meat from some sausages and discard the skins.
Last time I made it I served it with mash and a cider sauce.
Ingredients
1 packet of ready rolled puff pastry
6 spicy pork sausages, skins removed.
1 red onion. sliced,
1 tsp chilli flakes
1 tsp Dijon mustard.
beaten egg
knob of butter
1/2 tsp poppy seeds
1 Granny Smith apple or Bramley apple, cored, peeled and roughly chopped.
Salt
Pepper
1 tbsp chopped sage
 Method
Pre heat your oven to 200 degrees.
Heat a frying pan, add the knob of butter and fry the onion until soft and translucent, add the apple and fry for a couple of minutes.
Remove from the heat and sprinkle over the herbs, salt and a lots of black pepper. Leave to cool
Mix the sausage meat, mustard and apple mixture in a bowl.
Place a piece of greaseproof paper on baking tray
Unroll the pastry, and cut it half, place one half on the baking tray.
Top with the sausage mix, leaving a 1cm gap around the edge.
Brush the edge with beaten egg then place the other half of the pastry on top.
Trim off any excess and then press the edges with a fork to seal.
Cut through the pastry on the top with a sharp knife to form a lattice shape.
Brush with beaten egg, sprinkle with poppy seeds and the chilli flakes.
Bake in the oven for 30-40 minutes, until the pastry is golden and has puffed up nicely. It may take a little longer depending on the thickness of your meat.