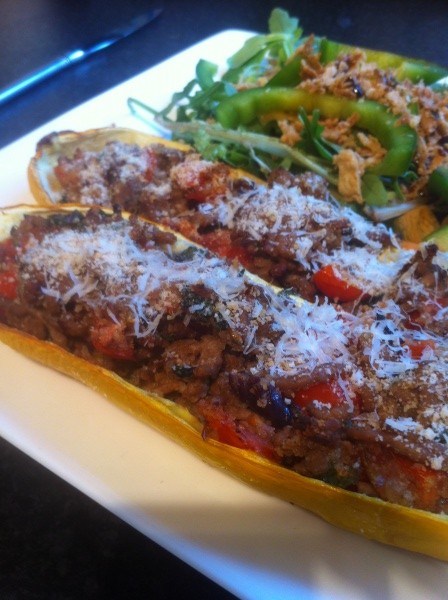 Spicy Lamb Stuffed Courgette Recipe
I saw a similar recipe in the freebie Marks and Spencer Food app on the Ipad a few weeks ago and decided to jazz it up a bit, it's since been made regularly and has become a firm favourite.
Serves 2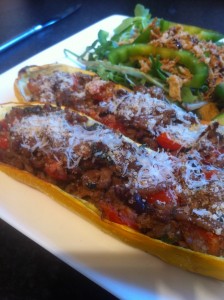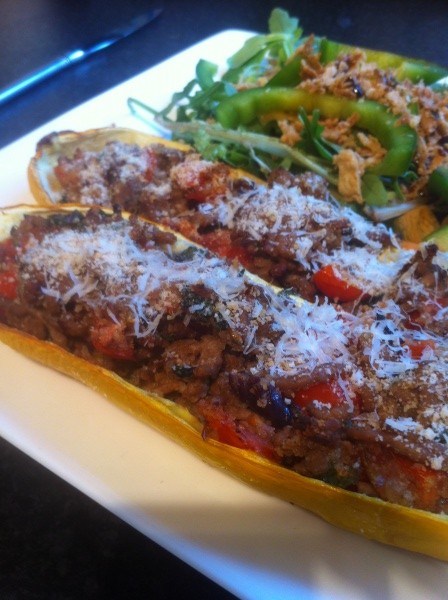 Ingredients
2 large courgettes
250g lamb mince
1/2 red onion, finely chopped.
1/2 tsp cinnamon
1/4 tsp oregano
1/4 tsp tarragon
1/2 tsp chilli flakes
1/2 tsp cayenne pepper
1 clove of garlic, crushed
Salt
Black pepper
Small bunch of flat leaf parsley, finely chopped
Small bunch of fresh mint, finely chopped
1 chilli, sliced.
8 cherry tomatoes or small san marzano tomatoes, chopped
10g grated parmesan
20g bread crumbs
Method
Pre heat oven to 180 degrees
Cut the courgettes in half length ways, scoop out the centre…you can use this for fritters or throw it away.
brush the outside of the courgette with olive oil and place skin side down on a baking tray.
Season the courgettes with salt and pepper, plus the chilli flakes, bake in the oven for 15-20mins until soft.
While the courgettes are cooking, head some oil in a frying pan, fry the onion until soft then add the garlic, cinnamon, oregano, tarragon, cayenne. Fry for 30 seconds
Add the mince and cook until brown
Stir in the tomatoes, mint and parseley, season with salt and plenty of black pepper.
Spoon the mince into the courgettes, mix the breadcrumbs and parmesan together then sprinkle over the top.
Bake in the oven for 15 mins until the breadcrumbs are nice and crispy.
Serve with a nice big green salad.