Huevos Rancheros Recipe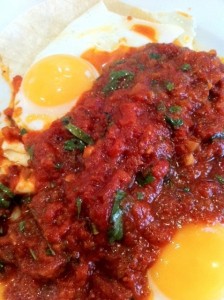 I'm a huge fan of Huevos Rancheros for breakfast, it's the the perfect hangover cure (especially when topped with some crispy smoked bacon) it's just a shame that not many places serve it on the breakfast, so on our recent trip to Cornwall I was delighted to see that Stein's Cafe in Padstow had it on the menu, even more delighted to hear it was included in our Bed and Breakfast as their kitchen was out of action so were treating everyone to breakfast at Stein's  Cafe.
You can fry the eggs seperately or add them to the tomato mixture, I quite like adding to the mixture as it means less washing up. I'm also partial to adding a bit of grated cheese to the top
The picture on the right is of my breakfast at Stein's but the recipe below is one of my favourites.
Serves 1 hungry hungover person.
Ingredients
1 2oog tin of chopped tomatoes
1/2 small red onion.
1 small clove of garlic, crushed
1 chilli, finely sliced or chopped
1/2 tsp tarragon
1/2 tsp oregano
2  large fresh free range eggs
2 flour tortillas
1 tsp Tabasco sauce.
Pinch of salt
Pinch of pepper
Few sprigs of fresh coriander, sliced
2 slices cooked crispy smoked bacon (optional)
Olive oil
Method
Heat your frying pan, fry the tortillas in the dry pan until they are slightly crispy and start to brown. Remove from pan.
Add a splash of olive oil followed by the garlic, onion and chilli, fry gently until soft. Add the Tabasco and the herbs, stir well.
Season with salt and pepper.
If you aren't frying your eggs seperately then make 2 wells in the tomato and break an egg into each one, cook until the eggs are done to your liking.
Place the tortillas on a plate and top with the eggs and tomato (and the bacon if you are using it), add another dash of Tabasco and enjoy.