Hotshot Parmo Recipe
If you don't live in Teesside and haven't been there, you probably haven't heard of the the Parmo, if not you can readmore about it here. Basically it's a heart attack waiting to happen, cheese, fried chicken and bechamel sauce, which can then be topped with all sorts of delicious treats such as mushrooms, chilli and bacon, it's usually served with chips, salad and garlic sauce and consumed after a night in the pub and even though you know you should't have one it's one of those things you crave every now and then.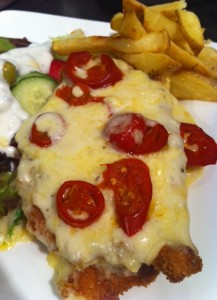 Despite being a local delicacy, good ones are surprisingly hard to find, especially when you are sober. So I've had a go at making my own and thought I'd share the recipe with you so those of you who've not had one can give it a go.
I added some extra spice to the breadcrumbs but if you don't want it to hot you can always leave that out.
It's up to you how you cook your chicken, you can deep fry it for a few minutes until crisp and golden, shallow fry or bake in the oven.
You can also top your chicken with bacon/ham/chorizo or salami to add an extra twist.
Ingredients
2 chicken breasts
Breadcrumbs
Pinch chilli flakes
1/2 tsp chilli powder
1/2 tsp mixed herbs
Salt
Pepper
Flour
1 free range egg
Lots of Grated Cheddar
Sliced chillis of your choice, I used pickled Jalapeno.
For the Sauce
25g Flour
25g Butter
Handful Parmesan cheese
1 bay leaf
Pinch of nutmeg
350ml milk
To Serve
Garlic Sauce
Chilli Sauce
Salad
Homemade Chips
Method
Pre heat oven to 200 degrees, or pre heat your grill
Butterfly your chicken breasts then bash them out so they are really thin.
Coat them in seasoned flour
Beat the egg and dip the chicken in the egg.
Mix the chilli flakes and powder with the breadcrumbs, along with a little salt and pepper.
Coat the chicken in the breadcrumbs.
Cook your chicken using your preferred method, I fried mine so drained it on some kitchen paper while i made the sauce.
Make your sauce by melting the butter in a pan, then add the flower and mix to form a paste, then add a little of the milk at a time, stirring well to avoid getting lumps.
Add the nutmeg, a pinch of salt and pepper and the bay leaf and cook for a few minutes until the sauce has thickened and no longer tastes of flour. Remove the bay leaf
Stir in a handful of grated parmesan and remove from the heat.
Place your chicken on a baking tray (use some grease proof paper if you want to save scrubbing your tray later)
Cover the chicken in the sauce, then top with lots of grated cheese
Top with a few slices of chilli then place in the oven or under the grill until the cheese has melted.
Remove from oven/grill and serve with salad, chips and loads of garlic and chilli sauces.