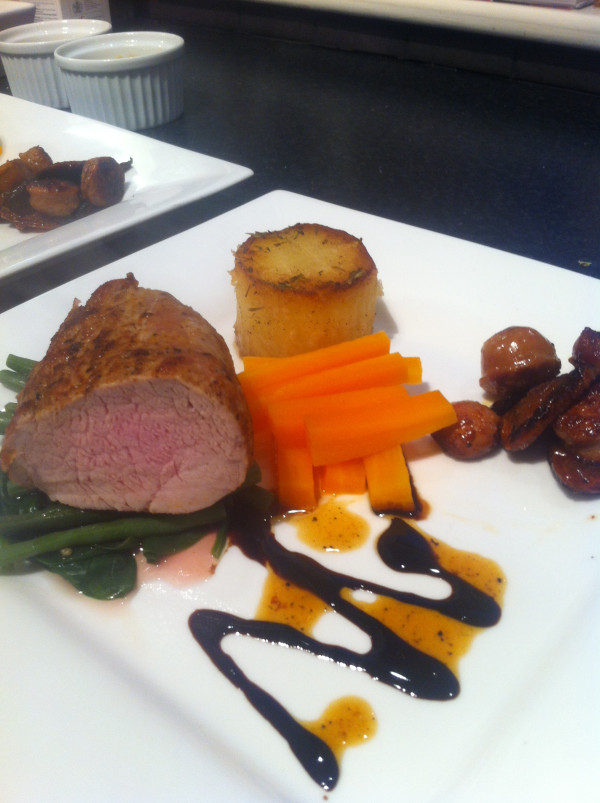 Hot Paprika Pork with Fondant Potato, Chorizo and Sun dried tomato
I made this a couple of weeks ago, It turned out a lot better than I expected so I've decided to share the recipe on here.
If you want to make the pork really round, wrap it tightly with cling film and leave in the fridge over night before cooking.
To make the balsamic reduction, add 200mls of balsamic vinegar to a pan and reduce by 50% until it's nice and sticky, you can do this well in advance or buy it ready made.
I served my pork with spinach, green beans and carrots, all cooked in my electric steamer.
Serves 2
Ingredients
300g pork fillet/tenderloin
1 large Maris Piper potato
1 chicken stock cube
400ml Boiling water
knob of butter
pinch of dried thyme
6 saffron strands
Picante chorizo
6 pieces of sun dried tomato
Salt
Pepper
Hot/Smoked Paprika
Olive oil
Balsamic reduction
Method
Pre heat your oven to 180 degrees c
Trim any fat off your pork, season with salt and pepper then sprinkle with a table spoon or so of your paprika, rub the seasoning in and set aside.
Peel your potato and slice in half,  then use a cookie cutter to cook 2 round pucks of potato.
Melt a knob of butter in a saucepan, then add your 2 potatoes to the pan, let them cook until crisp and golden brown then carefully flip them over and cook until crispy and golden brown. Dissolve the stock cube in the boiling water and gently pour into the sauce pan, add a pinch of thyme, salt and pepper along with the saffron. Bring to the boil then reduce to a gentle simmer, cook until the potato is soft and cooked through. It should take about 20 minutes depending on your potato.
While the potato cooks, brush a frying pan with a little olive oil and then brown sear the pork for a couple of minutes on each side. Once the pork is browned on all sides, remove from the pan, place on a baking tray and cook for 14 minutes.
Remove the pork from the oven and leave to rest
In the frying pan you used for your pork, add 3 slices of chorizo per person, and fry until the oil starts to release, at this point add the sun dried tomato.
Plate your vegetables up along with your potato, slice the pork into two nice big chunks and add to your plate.
Stack the chorizo and sun dried tomato on each plate.
Drizzle the plate with the balsamic reduction and some of the oil that came out of the chorizo.
Enjoy.