Hairy Dieters Chicken Cordon Bleu with a chilli twist
I've just got my hands on the new Hairy Dieters Book and those who follow my other blog will know how much of a fan I am of both books (which you can buy them here and here)
There's plenty of healthy and spicy recipes in both and those that don't have any chilli in can easily be spiced up without adding too many calories.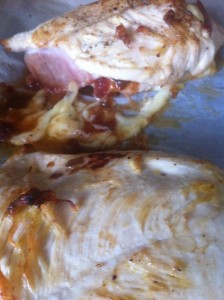 The first one that I chose to spice up was the Chicken Cordon Bleu, it's a super simple recipe anyway so adding a dollop of chilli jam didn't take much extra effort and was absolutely delicious, plus it only added a few extra calories, although this will depend on how much you add and which jam or sauce you use.
Serves 2
Ingredients
 2 boneless and skinless chicken breasts
2 tsp chilli jam
2 slices of Emmental cheese, around 25g each.
2 slices of nice ham, not too thick
Salt
Pepper
Olive Oil
Salad/Veg to serve with
Method
Pre heat your oven to 200 degrees c
Carefully open up the chicken breasts, but slicing it horrisontally, stopping it before you go all the way through, giving you a chicken "book"
Spead your chilli jam on one half of each chicken breast
Place you ham on followed by the cheese slice
Fold the chicken breasts over to create little parcels. If the edges don't quite meet you can always secure with a couple of cocktail sticks.
Season both sides of the chicken with salt and pepper (you could always add a sprinkling of chilli flakes too)
Heat a splash of olive oil in a frying pan, add the chicken  and fry for 3 minutes each side.
Place chicken on a baking tray and put it in the oven for 7 minutes or until cooked through.
Serve with either veg or salad.