Ginger Parfait, Chilli Ginger Snaps and Whisky Poached Rhubarb
I made this last night as a bit of an experiment, I had a ginger parfait when we were out for a meal a few weeks ago and thought it would work quite well with some chilli and a bit of rhubarb so this was what I came up with.
It's incredibly easy to make and can be made well in advance, in fact its best if it is all made the day before, although it does make a fair bit of washing up.
The pic isn't the best as I didn't have time to take a pic with the ones with lots of sauce.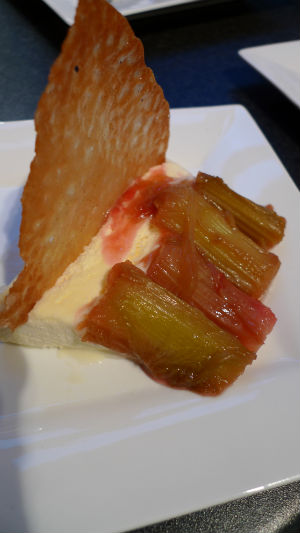 Serves 6-8
Prep/Cooking time:  20-30mins plus overnight chilling/freezing
Ingredients
For the Parfait

25g fresh ginger

290ml of fresh double cream

1 teaspoon vanilla extract or 1 vanilla pod

3  very fresh, large, free range eggs

250g caster sugar
For the Chilli Ginger Snaps
1 teaspoon chilli flakes, thinly chopped fresh chilli or crushed dried chilli
115g caster sugar
1 teaspoon ground ginger
65g unsalted butter at room temperature.
50ml Golden syrup or honey.
55g plain flour
For the Whisky Poached Rhubarb
4 or 5 sticks of nice fresh rhubarb (home grown is best..also looks cool if you use the really  pink stuff)
1 tablespoon caster sugar
50ml whisky
1 tablespoon water.
Method
For the Parfait
Separate the eggs, placing the whites in one bowl and the yolks in the other bowl.
Put the cream in a bowl and whisk until it becomes thick and just drips off your whisk, try not to over whip it as this will result in a lumpy parfait.
Add 100g of the sugar to the egg yolks and whisk until light and fluffy.
Whisk the egg whites until they are firm and soft peaks start to form, whilst still whisking add the 100g of sugar bit by bit and whisk until nice and firm.
Peel and finely chop the ginger then crush it in a pestle and motar along with the remaining 50g of sugar and vanilla, this should form a nice gingery paste.
Add the ginger paste to the egg yolks and gently mix.
Then gently fold the cream into that mixture followed by the egg whites.
Mix gently until all of the ingredients are combined and smooth.
Line your loaf tin/terrine with cling film, I found it best to use a silicon loaf tin that way it is really easy to get the parfait out when frozen
Tip the mixture into the mould and freeze for at least 6 hours, preferably overnight.
For the Chilli Ginger Snaps
Put the ginger, chilli, butter and sugar into a bowl and mix until combined.
Sift in the flour
Add the golden syrup or honey and mix until you have a nice smooth dough.
Roll into a sausage shape, wrap tightly in cling film and refrigerate for at least 3 hours, preferably over night.
When you are ready to make the snaps and the dough is chilled pre heat your oven to 170 degrees C
Line a baking tray with grease proof paper.
Slice into 5mm thick discs and place on to the baking tray with plenty of space in between, you might want to do this in batches so they don't all stick together.
Bake for 5-10mins until golden brown, Remove from the oven and allow to cool.
If you wish to shape the snaps, it is best to do them while they are slightly warm but have firmed up.
Once cool, place in an air tight container until needed. You might want to place greasproof between each snap to stop them sticking together.
For the Whisky Poached Rhubarb
Wash and slice the rhubarb into 2 inch pieces
Add all of the ingredients into a pan, cook until the rhubarb is soft, gently stirring occasionally.
Set aside and leave to cool
To serve
Remove the parfait from the mould, slice using a hot knife
Place on a plate along with a few pieces of rhubarb, drizzle with the rhubarb juice.
Top with the a chilli ginger snap and serve.
I decided to put the chilli in the snap biscuits instead of the parfait, having said that after making it I think the chilli would work really well in the parfait, for this I would probably use a thinly sliced fresh chilli and also some of that ginger you get in syrup to add a bit of extra texture to it, or maybe line the loaf tin with a mix of crushed ginger biscuits and chilli. It might also work as a layered parfait with a layer of chilli jam in the middle…I will certainly be experimenting to find out.