Chocolate, cherry and chilli muffins.
This is based on a recipe I found a while back on the BBC Good Food website but I decided to spice it up as cherry, chocolate and chilli is one of my favourite combinations and Black Forest Gateaux is one of my favourite things ever.
If you don't have any Krisch just use some of the syrup from the jar of cherries. Also your butter really needs to be soft, if it's too hard you'll just end up with icing sugar everywhere as I found out.
I used Lindt chilli chocolate but you can use what ever you can get your hands on.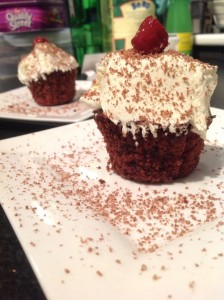 Ingredients
425g jar of morello cherries, drained
100g  chilli chocolate
1/2 tsp chilli powder
100g plain flour
160g unsalted butter
3 large eggs
120g icing sugar
50g cornflour
25g cocoa powder
2 tsp baking powder
4 tbsp Kirsch
300ml whipped cream
Method
Preheat oven to 180C.
Line a 12- hole muffin tin with paper cases.
Using an electric mixer beat butter and icing sugar until it looks pale and creamy
One at a time, add the eggs and fold through with a spoon.
Sift in the flours, cocoa powder, baking powder and chilli powder fold in.
Keep 12 cherries separate to use for decoration and gently mix in the rest to the batter.
Break up 50g of the chilli chocolate into small chunks and mix into the batter.
Bake for 20-30 mins  until a knife or skewer comes out clean
Remove from the tin and cool on a  wire rack.
Once cooled, poke a few holes in the top of each cake and drizzle with a little Kirsch.
Decorate the tops with cream, grated chilli chocolate and a cherry.