Chillitini
Liz from the Harlequin in Sheffield very kindly sent me this recipe some time ago and I completely forgot to post it (Sorry Liz) I feel really bad about it as Liz went to lots of effort in perfecting the recipe and taking photo, she also sends me lovely chutneys and pic ale chilli. I've copied her entire email because I think it's really great.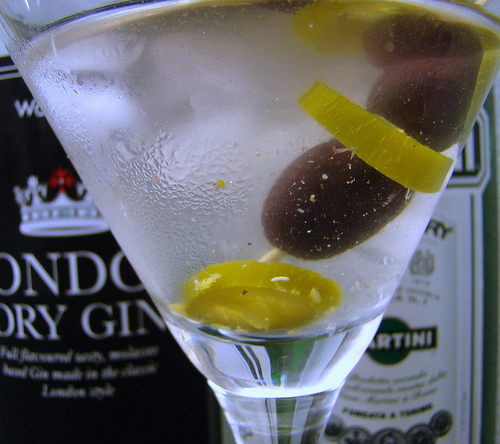 Before we begin, i feel the need to make a couple of excuses. firstly, the correct proportions and preparation of martinis are hotly contested topics (well, in some people's worlds anyway) and i make no claim to authenticity or correctness. the addition of ice to the glass is particularly likely to upset some people but i find that the hint of water as the ice melts really brings out the flavours of gin in general. if you're part of the martini mafia and are offended by the following method…well, the beauty of the internet is that you don't know where i live 🙂
secondly, the following is made with a standard london dry gin (waitrose own-brand is a good one) so the tasting notes and aromas will vary if you use a premium gin, flavoured gin or (god forbid!) vodka. don't get me wrong, i like vodka, but for me it belongs in bloody marys not martinis. but if that's your poison, then go for it. you could use hendricks gin for an extra savoury taste (and maybe add some gherkin to the recipe to complement the cucumber flavours); bombay sapphire may be a little too complex for this drink but, heck, it'd be worth trying!
method
to begin, then, you'll need the following: gin; vermouth (any variety will do – personally i like the extra dry version); olives in brine; sliced
jalapenos in brine; ice. this is one of those rare occasions where i find pre-pickled jalapenos work better than fresh chillies – i've tried making it
with fresh and while i wouldn't refuse one in future, the brine does seem to add to the overall flavour.
the ratio of gin:vermouth varies with taste. for a dry version try roughly 6 parts gin to 1 part vermouth. if you like it sweeter, increase the amount of vermouth accordingly; if you like it drier then either: invest in a small atomiser and spritz the inside of the glass with vermouth; or add a little vermouth to the glass, swirl it around to coat the inner surface, then pour the excess liquid away.
anyway, put your preferred amount of gin and vermouth into a martini glass with a couple of cubes of ice before dropping in two olives and two or three slices of jalapeno. stir gently and…well, enjoy! the brine from the olive and jalapenos will float on top and slightly discolour the drink, making it 'dirty'.
tasting notes
(one final excuse: i've never been able to write tasting notes that don't seem laden with double entendres. i'm sorry.)
depending on how dirty your martini is (ie, adding a few drops of the olive/jalapeno brine will make it dirty whereas darining the
olives/jalapenos before adding them will make it cleaner) the gin aroma (normally juniper) will be in the background, and what you'll actually get is a slightly briney, savoury smell to begin with.the first taste hit is slightly sweet. even if you've only put in the merest hint of a smidgen of a sniff of vermouth, this tends to be what hits you first – although hits is too harsh a word. lets say it caresses the inside of your mouth. don't be fooled though – it's just trying to sweeten you up before the gin and jalapeno kicks you somewhere sensitive and steals your dinner money. keep the martini in your mouth for a few seconds and as it warms up the sharpness will start to develop – you'll start to get a tingling feeling on the sides of your tongue toward the back of your mouth.
As you swallow, you'll predominantly get the alcohol burn of the gin before – all of a sudden – the slightly salty jalapeno heat will take over. if
those are the sort of flavours you like, you'll find it an incredibly moreish drink!