Spicy tomato and cheese topped cod
This recipe is really simple and full of flavour, you can spice it up more by adding a different type of chilli sauce or using some chilli flakes or fresh chilli in the mix.
It serves two and is best served with home made wedges/chips and vegetables.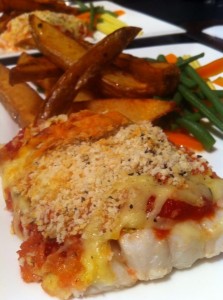 Ingredients
2 Cod or haddock fillets

Tabasco
2 tsp low fat cream cheese with herbs
6 tbsp chopped tomatoes (tinned/carton)
2 tbsp breadcrumbs
1 tbsp grated cheddar cheese
salt
pepper
1/2 tsp oregano
Olive oil
Method
Pre heat your oven to 200 degrees c

Place some grease proof paper on a baking sheet.
Rub a little olive oil over the fish and place on the baking sheet.
Season the fish with salt and pepper.
Spoon the tomatoes over the fish then sprinkle on the oregano.
Add a few dashes of Tabasco
Place a spoon full of the cream cheese on each fillet
Sprinkle on the grated cheese
Top with the breadcrumbs
Bake in the oven for 12-15minutes depending on the size of your fish
Enjoy!