Spicy Meatballs and Cous Cous Recipe
I've done meatballs and cous cous before, but these meatballs are a bit different although the cous cous is the same and you can read the recipes here and here (you could also make the bread while your at it as it will go perfect with the meatballs)
You could add some breadcrumbs, crushed up crackers and an egg to help bind the meatballs if you struggle to get them to stick together.
Ideally the meatballs need to be chilled for at least 30minutes before using.
This serves 2 people but you could make more and freeze the meatballs.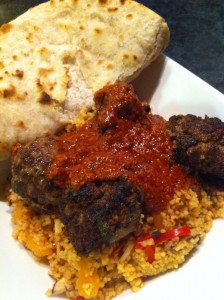 Ingredients
200g lamb mince
1 tsp harissa
1/2 bunch of fresh mint, finely chopped
1 clove of garlic, crushed
juice of half a lemon
olive oil
salt
pepper
2 tsp cumin
1 tsp ground coriander
For the sauce
2 tsp harissa
2 tsp tomato purée
2 tbsp greek yoghurt
squeeze of honey
few sprigs of mint
1/2 red onion, finely sliced.
To serve
Cous cous and bread from here (both can be made well in advance so this just concentrates on the meatballs.)
Method
Mix the harissa, lemon juice, garlic, coriander, cumin, a pinch of salt and a pinch of pepper together.
Place the lamb in a bowl along with the chopped mint and a dash of olive oil.
Add the harissa mix and then gently mix with the lamb using your hands.
Form into 6 golf ball sized meatballs, place on a plate, cover with cling film and chill for at least 30minutes.
Pre heat your oven to 180 degrees C.
Heat a frying pan on the stove, add a dash of olive oil and fry the meatballs for 8 minutes, turning regularly so they  crisp up and brown on all sides.
Transfer the meatballs to baking tray and place in the oven while you make the sauce.
Drain a some of the fat from the pan and discard.
Fry the onion in the remaining fat until softened
Add the harissa and tomato purée and fry for 2 minutes.
Now add a squeeze of honey, the chopped mint and the yoghurt, stir well.
Remove the meatballs from the oven, serve with the cous cous, sauce and bread. Enjoy!