Spicy BBQ Style Gyros Recipe
This recipe is virtually the same as the recipe I posted on my non chilli blog but It doesn't use the chips and adds a bit of heat so If you would prefer it with out the heat check the recipe for my normal home made gryos recipe out here. I replaced the chips in the gyros with a side salad and side of new potatoes which were covered in piri piri chip seasoning…more on that and the piri piri sausages later.
If you don't want to use pork it also works brilliantly with chicken.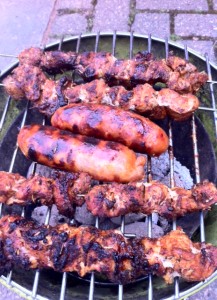 Ingredients
2 pork small loin chops or one big one, make sure they have a little bit of fat on as fat = flavour and texture
1 nice big flat bread or pitta
some sliced red onion
some sliced tomato
a couple of lettuce leaves
sliced Jalapeño
hot mustard
chilli sauce or chilli ketchup
tzatziki
For the marinade
splash of white wine vinegar
glug of olive oil
pinch of cinnamon
pinch of nutmeg
pinch of all spice
ponch of tarragon
pinch of rosemary
pinch of cumin
pinch of chilli powder
pinch of chilli flakes
1 teaspoon sweet paprika
1/2 teaspoon hot paprika
pinch of salt
pinch of pepper
1 teaspoon oregano
pinch of garlic powder
pinch of crushed fennel seed.
pinch of thyme
Extras
Kebab sticks
BBQ
Side salad
New potatoes (with nandos piri pir chip seasoning)
Method.
Mix all of the herbs and spices together along with the olive oil and white wine vinegar, set aside
Bash our your pork so it's nice and thin then slice into strips, mix in the marinade from step 1 and leave for as long as possible. when ready thread onto your bbq skewers.
Heat your BBQ up and place the skewers onto it, turn every few minutes so the fat gets nice and crispy on all sides. Depending on the heat of your BBQ they wont take long to cook
Warm your bread then spread the bread with tzatziki, mustard and mayo, top with the onion, lettuce and tomato followed by the meat  Fold or roll up depending on the size of your bread, enjoy with a nice cold beer, salad and new potatoes.