Spicy 300 Calorie Pasta
This is one of my favourite pasta dishes, its packed full of flavour and comes in at under 300 calories for a huge bowl that will keep you full for ages. If you don't want to griddle the vegetables you can fry them but I really think griddling them adds something extra.
I used purple basil when making this last time and it added a really funky colour to the pasta.
If you want to add a bit of meat (and a few extra calories) it works really well with thick cut smoked bacon, spicy sausages, chicken and even thin strips of rare steak.
Serves 2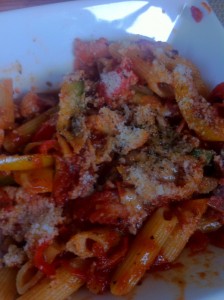 Ingredients
80g of dried pasta
1 small red onion
1/2 red pepper
1/2 yellow pepper
1/2 green pepper
1/2 small courgette
4 medium chestnut mushrooms
1 tbsp olive oil
300g carton chopped tomatoes with herbs
2 tbsp parmesan
Small handful of basil
1 tsp dried oregano
1 tsp hot paprika
Tabasco Sauce.
Few slices of pickled Jalapeño
Salt
Pepper
Method
Cut all your vegetables into chunks, place into a bowl and add the olive oil,
Heat your griddle pan up so its nice and hot then place your vegetables (apart from the Jalapeño) on, turn frequently so they don't char too much.
Place your pasta in a pan of salted boiling water and cook until al dente.
Drain the pasta in a sieve and set aside.
Add the chopped tomatoes to the empty pan, warm through for 2 minutes, add as much Tabasco as you can handle along with the oregano, basil and paprika.
Tip the pasta and the vegetables into the tomato, stir well.
Taste and season.
Serve topped with Parmesan, Jalapeño slices and black pepper.