Roast chicken with honey butter chorizo stuffing recipe
A couple of days ago I recieved a press release along with this delicious sounding recipe that I thought some of you might like, obviously I'd spice things up a bit with a little bit of chilli and by using a hot and spicy chorizo.
There's also a chance for the budding cooks reading this to submit their recipes and to win a chance to be in a cookbook alongside Rachel Allen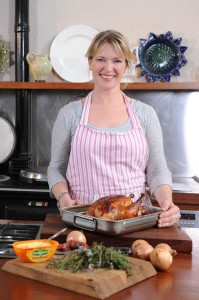 Kerrygold and Rachel Allen Launch Community Cookbook
Kerrygold, the Irish butter brand, has teamed up with top Irish Chef, Rachel Allen, to produce the very first Kerrygold Community Cookbook. Kerrygold is inviting  cooking enthusiasts across the UK to be part of it by submitting their best-loved recipes, be they old family favourites or original flashes of culinary inspiration, to their Facebook page
Roast chicken with honey butter chorizo stuffing
Serves 4-6
Rachel's quote: 'Chorizo and honey are two powerful flavours that are carefully balanced in this stuffing, they both work wonderfully with the supremely versatile chicken. I have used Kerrygold Honey Spread as a convenient cheat for adding both honey and butter.'
Ingredients:
40g (1 ½ oz) Kerrygold Honey Spread
110g (4oz) chorizo, finely chopped
100g (3 ½ oz) white breadcrumbs
1 chicken (1.5 – 2.25kg or 3lb 5oz – 5lb)
2 tbsp thyme, chopped
1 tbsp olive oil
1 onion, peeled and chopped
1 clove of garlic, peeled and finely chopped
Sea salt and freshly ground black pepper
Method:
Preheat the oven to 180°C/350°f/Gas mark 4.
First make the stuffing, melt 25g of the Kerrygold Honey Spread in a saucepan with the olive oil, then add the onion, garlic and chorizo, cover with a lid and cook on a low heat for 8-10 minutes or until the onions are soft but not browned.
Take off the heat, then stir in the thyme and breadcrumbs. Season to taste with salt and pepper then allow to cool.
Spoon the cooled stuffing into the chicken cavity and place the chicken in a roasting tin. Smear the remaining Kerrygold Honey Spread over the skin of the chicken and sprinkle with some salt and pepper.
Place in the oven and roast for about 1 hour and 30-45 minutes (allowing about 20 minutes per 450g/1 lb), until cooked, basting occasionally. If it begins to look quite dark while cooking, cover with some foil.
To check whether the chicken is fully cooked, stick a skewer into the thigh with a spoon placed underneath to catch the juices, the juices should run clear. Also, the legs should feel quite loose on the bird.
When cooked, transfer the chicken to a serving plate and leave to rest, covered with foil and in the oven at the lowest temperature. This will keep the chicken warm while you make the gravy or sauce.
Spoon the stuffing out of the chicken into a serving bowl or onto a plate.
Carve the chicken and serve.
For more information on the Kerrygold, delicious recipes and to be in with a chance to have your recipe featured in the Kerrygold Community Cookbook alongside Rachel Allen's please visit
www.facebook.com/KerrygoldUK