Picante Paella Recipe
Paella is one of those things that seems to differ depending on who you talk to and where you go, I've never been a fan of the ones crammed full of fish and tomatoes, I tend to prefer the meaty ones, especially the one I once had with rabbit in.
This is a super simple, serves 2 greedy people and takes about 20 minutes to cook and if you don't like prawns you can always leave them out. It also works really well with good chicken stock but when I made this last night I didn't have any stock so used the oxo cube and water.
If you really want to stir the rice you can, although a Spanish friend once told me never to stir it so for once I've done as I'm told.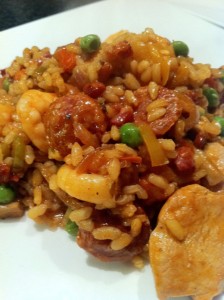 Ingredients
1 Chicken breast, cut into chunks
1 small packet of smokey bacon lardons
4 mini cooking chorizo (picante ones if possible), skin removed and then sliced
10 (ish) large raw king prawns
1/2 green pepper, thinly sliced
1/2 red pepper, thinly sliced
1/2 yellow pepper, thinly sliced
5 large chestnut mushrooms, sliced
1 red onion, sliced
3 sprigs worth of thyme leaves
2 cloves of garlic
1 oxo chicken stock cube
350-40ml water
150g paella rice.
pinch of saffron soaked in a tablespoon of water.
Handful of chopped flat leaf parsley.
1/2 tsp dried chilli flakes
1 handful of frozen peas
1 medium tomato, chopped and seeds removed.
1 glass of white wine.
salt
pepper
1 1/2 tsp smoked paprika
bay leaf
olive oil
Method
 Heat a splash of olive oil in a large frying pan, add the bacon and cook until crispy, add the sliced chorizo and cook for a minute or so before adding the chicken.
Cook the chicken for a few minutes until its nice and golden then add the mushrooms, peppers and onion along with the garlic, bay leaf, chilli flakes and paprika. Stir well.
Cook until the onions are soft, add the wine, give it a really good stir then add the rice , once the rice has soaked up the wine add the water and crumble in the stock cube (unless your using stock then just add the stock), give it a quick stir.
Now turn the heat down so the pan is simmering and just a say bubbling. The trick here is not to stir anything and leave it for 10-15 minutes, checking it every now and then to make sure it's not drying out too much, the rice will soak up all the juices and puff up nicely, the bits that catch on the pan add a little more texture and taste fab too.
The rice will start to soften so after 15 minutes try a few grains, if they are about cooked add the prawns and peas, pushing them into the rice but not stirring too much as you don't want to disturb the pan too much.
Cook until the prawns are pink and cooked through.
Sprinkle with chopped parsley and season with salt and pepper.
Remove from the heat and give it all a good mix before you plate it up.
Enjoy!