Hot and Sour Chicken
I quite fancied sweet and sour for tea but didn't want to use one of the sickly packs from the supermarket so decided to make my own.
Also quite fancied battered chicken so decided to make some tempura for the chicken, if you want  a more healthy meal just leave that out and stir fry the chicken instead.
The trick for the tempura is to have really really cold water, I usually put it in the freezer for a few minutes before using, you can also use fizzy water if you want extra light batter.
Serves 2
Ingredients
2 chicken breasts, cut into thin strips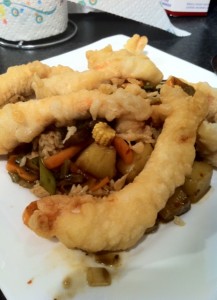 For the tempura
175g self raising flour
1 tsp cornflour
pinch of salt
275ml of ice cold water
2 egg yolks
For the stir fry
Handful of mushrooms, sliced
Handful of baby corn, sliced
5 spring onions, sliced
1 small tin of pineapple in juice
3 sweet bite peppers (or 1 yellow/orange pepper), sliced
1 tbsp soy sauce
2 tbsp white wine vinegar
2 cloves of garlic, crushed
small piece of ginger, grated
1 tsp chilli flakes.
1 tbsp brown sugar
1 nice big glug of sherry
1 big squirt of tomato ketchup
Rice to serve with.
sesame oil
Deep fat fryer or oil for frying.
Method
Heat your deep fat fryer up to 180 degrees
Whisk the eggs and the water together, then add the cornflour, self raising flour and salt, whisk until well combined, don't worry if its a bit lumpy this adds a nice texture to the batter.
Dip your chicken in the batter and then deep fry until crisp and golden.
While your chicken cooks, heat the sesame oil in a wok or large pan, add the vegetables followed by the garlic and chilli
When the vegetables start to soften add all of the other ingredients, including the juice from the tin of pineapple, stir well and cook for a few minutes until the sauce thickens.
Plate up your rice then add your vegetables and sauce
Top with the chicken and serve.