Chilli Chicken Burritos
I'm  a huge fan of Mexican and Mexican style food but always struggle to choose what to have, that's why I love burritos, they offer the chance to stuff them full of your favourite Mexican treats and fill your belly. They are also great for dinner parties and mid week meals as they an be prepared in advance or even frozen.
Although this recipe using chicken, my favourite filling has to be pulled pork, so if you've got time and or the inclination swap out the chicken filling for some of this pulled pork.
You can also make your own rice but to keep it quick and easy I used Tilda Mexican bean rice. I served it with sweet potato wedges and a huge salad.
It doesn't take very long to make but if you have time it's best to leave the chicken to marinade for a few hours. You an also spice up the left over tinned tomatoes before topping your burrito with a little bit of Tabasco, a pinch of chilli powder and some paprika.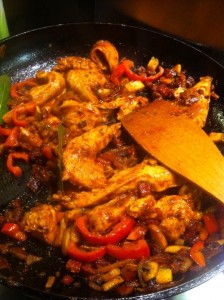 Serves 4
2 large chicken breasts, skinned and cut into thin strips

1 red pepper, thinly sliced
1 green pepper thinly sliced
1 onion, thinly sliced
1 tbsp ground cumin
1 tbsp smoked paprika
1 tbsp hot paprika
2 tbsp ancho chilli or Chipotle paste
1 tsp dried oregano
1/2 jar pickled, sliced Jalapeño
1/2 bunch fresh coriander
Salt
pinch of Cayenne pepper
1 tbsp cider vinegar
1 tbsp tomato puree
2 cloves of garlic, crushed
1 tin of chopped tomatoes
1 tin of Mexican bean salad, drained and rinsed
1 packet Tilda Mexican bean rice, cooked according to the packet.
4 flour tortillas
Sour cream
Salsa
Guacamole
20g grated cheese, Monterey Jack is best.
Olive Oil
Method
If you are making and serving straight away, pre heat your oven to 200 degrees C

Put the chicken in a large bowl, sprinkle over the dried herbs and spices, add a dash of olive oil and the cider vinegar along with the garlic. Mix well and leave to stand.

Heat a large frying pan, dry fry the tortillas for 20-30 seconds each side, until they start to puff and bubble up, set aside.
Add a little olive oil to the pan and fry the chicken and it's marinade for a few minutes until it's nearly cooked
Add the onion and peppers, cook until soft.
Add the beans and Jalapeños (feel free to keep some for decoration) to the pan and mix well.
Add the Chipotle or Ancho paste along with t the tomato puree and stir.
Now add half of the tin of tomatoes and stir
Cook for 10 minutes until everything is nice and soft.
Now you can either leave it to cool or start assembling your burritos.
To make the burrito lay each tortilla out on a worktop, divide the rice between the tortillas, placing in the middle of each disk.
Next spoon over the chicken mixture
Top with a spoonful of salsa, spoonful of  soured cream, spoonful of guacamole and a spoon full of salsa, and a little bit of the grated cheese, keeping some back for the topping.
Bake the burrito in the oven for 5 minutes
Remove, top with a couple of spoonful's of the left over tomato and the left over cheese, put back in the oven for another 5-8 minutes until the tomato is hot and the cheese has melted.
Serve